Create cabin memories you'll cherish for a lifetime! Make Your Reservation
Jackson NH Snowmobile
WINTER ADVENTURE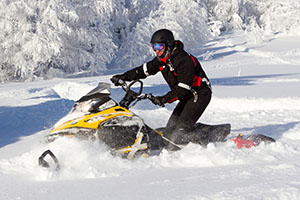 From December to April, snowmobiles can be found crossing hundreds of miles of trails in Mt Washington Valley. Great views of the New Hampshire backwoods are only part of the thrill of hopping on a snowmobile, revving that engine and dashing through the snow faster than Santa's reindeer. Guided tours for first timers of all ages and abilities are available for an unforgettable experience. Check out our blog for more reasons to try snowmobiling in the White Mountains!
Northern Extremes Snowmobile Rentals
Located 15 minutes away in Bartlett, New Hampshire. Northern Extremes proudly offers self-guided rentals by the hour, half day, full day and for multi-days for both Bear Notch & Bretton Woods. They also offer guided tours for all ages & abilities!
Northeast Snowmobile & ATV Rentals
Located 35 minutes away in Fryeburg, Maine with a secondary location in Gorham, New Hampshire. Northeast Snowmobile has three great trail-side locations, which enable you to park and ride hassle free. From each of their locations you can access the largest trail systems, the best terrain, and the best views in the area!
FAQs
Where can you rent snowmobiles in Jackson NH?
There are lots of options for snowmobile rentals in Jackson NH, as well as guided snowmobiling tours. Check out local companies like Northern Extremes Snowmobile Rentals, Mt Washington Snowmobile Rentals, and Northeast Snowmobile & ATV rentals.
Can you snowmobile at Mt. Washington?
Yes, Mt. Washington Valley is New England's premier snowsports destination, with more than 600 miles of snowmobiling trails through the White Mountains.
How much does it cost to rent a snowmobile in NH?
Rental prices vary, but generally, a 1-person snowmobile rental for a half-day is about $165, and for a full day it is about $240.
Is snowmobiling dangerous?
Snowmobiling is safest when all safety precautions are completely understood and followed. Most snowmobiling injuries can easily be prevented by following proper safety guidelines. If you are new to snowmobiling, consider a guided tour with professionals to ensure you stay safe.
How old do you have to be to rent a snowmobile in NH?
You have to be 18 years of age or older with a valid driver's license to rent a snowmobile in NH.
Is there a weight limit for snowmobiles?
Most snowmobiles have a weight limit of 500 pounds.
Is it safe to snowmobile at night?
Snowmobiling at night can be done safely, however, it is important to only snowmobile at night in areas you are very familiar with. Visibility is limited in the dark, and stationary objects can come into view quickly, posing potential dangers.
What should I wear to go snowmobiling?
When you go snowmobiling, you'll of course want to dress warmly. Wear layers. Long johns and snow pants, and waterproof outer layers are ideal. 
When is the best time to go snowmobiling in Jackson NH?
The best time to go snowmobiling is midweek or first thing in the morning. Generally speaking, the trails are groomed each night to prepare them for morning rides.
How hard is snowmobiling?
Snowmobiles can be tricky to get the hang of for beginners. That said, most riders find it easy to ride a snowmobile after their 4th or 5th riding experience. You'll just need to master a few simple techniques before hitting the trails on your own.
Do you need a license to drive a snowmobile in NH?
New Hampshire state law requires that all operators 12 years of age and over must possess either a valid Motor Vehicle Driver's License or must have successfully completed an approved OHRV or Snowmobile Safety Education Class when operating off of their own property.
When are snowmobile trails open in Jackson NH?
From December to April, snowmobilers can be found crossing hundreds of miles of trails throughout the White Mountains.
History of Christmas Farm Inn Name
The Inn is not 'Christmas themed' but rather received its name from the gifting of the property at Christmas time – renamed the 'Christmas Farm' in honor of the season and spirit of the gift.
LEARN MORE OF THE HISTORY