Create cabin memories you'll cherish for a lifetime! Make Your Reservation
Fantasy Lives at Story Land NH
SUMMER ATTRACTIONS
Story Land NH—Where Fantasy Lives!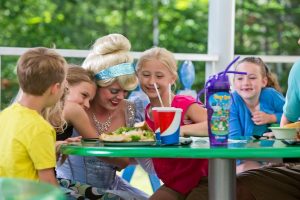 Our Jackson, New Hampshire bed and breakfast is just a short distance from Glen, New Hampshire, where the theme park is based. Story Land is a children's theme park that first opened in 1954. This theme park offers a safe and natural setting where children can let their imaginations run wild!
Theme Park Rides & Wonders:
Antique Cars
Bamboo Chutes
Cinderella's Pumpkin Coach
Crazy Barn Cuckoo Clockenspiel
Dr. Geyser's Remarkable Raft Ride
Dutch Shoes
Flying Fish
Huff Puff & Whistle Rail Road
Mother Goose's Manor
Polar Coaster
Rap-Tour Safari
Roar-O-Saurus
Important Things to Remember:
A limited number of free pet kennels are available. Not pets are allowed in the park.
Bring your own stroller or rent one near the park entrance. Quantities are limited.
Children under 2 years of age are admitted FREE. Parking is FREE.
No loose articles (cameras, cell phones, sunglasses, baseball hats, etc.) are permitted on rides. Small coin-operated lockers are available.
See additional information about Story Land at http://storylandnh.com.
Book your stay today and learn more about our Storyland hotel packages. 
Living Shores Aquarium at Story Land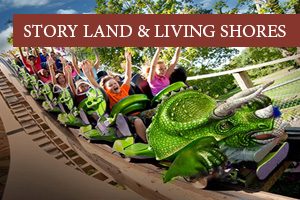 Story Land's newest addition is the Living Shore Aquarium, located in Glen, New Hampshire. The aquarium feature 32,000 sq. ft. of interactive experience, including tide pools, exhibits, and immersive activities. Discover the wonders of the ocean year-round at Living Shores, an indoor walk-through adventure for the whole family!
Exhibits inside the Aquarium:
Augmented Reality Sandbox
Freshwater Red Garra Touch Pool
Invert Touch Pools, Large and Small
Otter Experience
Ray Touch Pool
Shark Touch Pool
Tropical Walkthrough Aviary
Important Things to remember:
Children under 2 years of age are admitted FREE. Parking is FREE and is just outside the building and across the street!
Living Shores Aquarium is a one entry experience per ticket, exit for return later in the day will not be permitted.
Living Shores is generally geared toward children, ages 2 – 12, but all ages are welcome!
No pets are allowed in the building. Service dogs are permitted with proof of service. Pet kennels are available free of charge on a first come first served basis, and are self-serve.
Strollers are not advised, and must be attended at all times. If needed, umbrella strollers are recommended.
See additional information about Living Shores at https://www.livingshores.com/.
Book your stay today and learn more about our Storyland hotel packages.
Story Land Frequently Asked Questions
What is Story Land and where is it located?
Story Land is a theme park located in Glen, New Hampshire, which is just a 7 minute drive from Christmas Farm Inn.
Does Story Land offer Season Passes?
Yes, Story Land offers 4 different season passes. These passes can be purchased online at the Story Land website, or they can be purchased at the park. If you do purchase them online, be sure to bring confirmation of your purchase! Season passes must be activated prior to pass benefits going into effect. 

Season Passes are 1 per person, which means there are no family pass options.

Does Story Land offer military or senior citizen discounts?
A military discount is available for both active duty and veteran status personnel. You must have a valid military ID, and it can be used with their spouse and any children who are under the age of 18. With that being said, this discount is only available for ONLINE ticket purchases.
Do I have to pay for parking?
No, there is plenty of free parking located just outside of the park. Larger vehicles will need to park across the street from the North Parking Lot.
Do I have to pay separately for Living Shores Aquarium?
With the exception of the Platinum Season Pass, Story Land passes do not transfer to the Living Shores Aquarium and vice versa. Living Shores Aquarium is located at a separate entrance and requires a different admission to visit. You will need to purchase tickets online at the Living Shores Aquarium website.
Is Story Land open year round?
The theme park is open all summer! Check out their calendar to book your next visit and view their operating hours.
History of Christmas Farm Inn Name
The Inn is not 'Christmas themed' but rather received its name from the gifting of the property at Christmas time – renamed the 'Christmas Farm' in honor of the season and spirit of the gift.
LEARN MORE OF THE HISTORY