Our Jackson NH Restaurant
Fresh | Original | Fun
Join us on our culinary journey
Hello and welcome to our restaurant in Jackson NH!
The guiding principle for Christmas Farm Inn & Spa's restaurant has always been authenticity, quality, and a sense of fun. Surrounded by a team that shares these values, our restaurant has become well-known for its original cuisine, craft cocktails, and home-made desserts.
Our menu is a true team effort, bringing together the many tastes and visions from a passionate culinary team that shares a love of authentic food, full of original flavors with inventive new takes on classic dishes. We believe that our different backgrounds and stories helped us create a distinctive restaurant experience that combines local and worldly flavors in a cozy, unpretentious setting. Every meal is cooked fresh, every dessert made in house.
Kids enjoy their own menu and activities page. All children's meals come with a choice of starch and a drink.
A special place at the heart of Jackson NH
The Inn and restaurant have a historic significance to the town of Jackson; as one of the oldest estates dating back to the 18th century, the property was once home to the town's post office and jail and today still incorporate the town's first church from 1803. In an ever-changing and evolving world, the Christmas Farm Inn remains firmly at the heart of the long tradition and history that makes Jackson a quintessential New England experience.
Today, our restaurant offers traditional, cozy comfort with excellent food at fair prices and as such maintains its appeal with locals and in-house guests alike. The cozy ambiance and traditional décor reflect the feel and simplicity of the New England Farm heritage.
Having a local business, we understand and value our impact on the local community, be it employment, buying local goods and services, or supporting our local charities and institutions. As members of the Valley Originals, we donate a percentage of our profits to help support local causes and improve the quality of life in the valley, for the betterment of all.
What can we say; we love this valley!

Thank you for choosing to dine with us and Bon Appetit!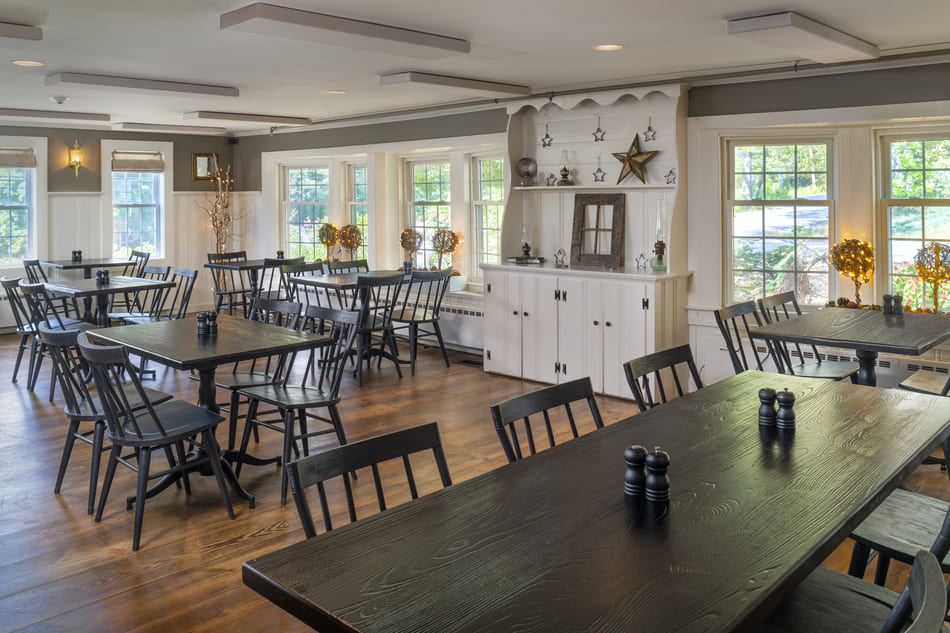 History of Christmas Farm Inn Name
The Inn is not 'Christmas themed' but rather received its name from the gifting of the property at Christmas time – renamed the 'Christmas Farm' in honor of the season and spirit of the gift.
LEARN MORE OF THE HISTORY