Create cabin memories you'll cherish for a lifetime! Make Your Reservation
Settlers Green Outlet Mall & More
SHOPPING IN THE WHITE MOUNTAINS
You can't beat New Hampshire's tax free shopping at local antique, outlet and specialty shops that offer bargains and friendly service, at any time of the year! From the shops in the village to the outlet mall – shop til you drop – all tax free!
Settler's Green Outlet Village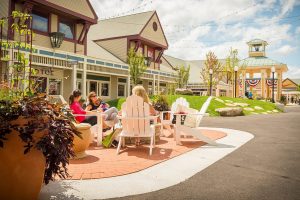 Tax-free out shopping at more than 70 stores including New Balance Factory Store, Coach Factory, Michael Kors, Polo Ralph Lauren and American Eagle Outfitters. Settlers Green presents year-round family events, plus there are unique art features and free Wi-Fi. Once you've shopped your heart out, grab a bite to eat at local eateries including Barley & Salt and FIRE by Wicked Fresh. Christmas Farm Inn is one of their preferred lodging partners, and if you mention you are on a shopping trip, we will give you a free coupon book with offers to over 30 of their stores! See a map of Settlers Green at settlersgreen.com/shop/maps – Located at 2 Common Court, North Conway, NH 03860.
Settlers Crossing
Stores in the North Conway venue include REI Co-Op, Clarks Bostonian Outlet and Books A Million. REI Co-op offers classes and outdoor experiences to enhance your visit to the White Mountains, along with everything you need for adventure including gear for camping, hiking, climbing, kayaking, cycling, and snowsports, plus apparel. – Located at 1498 White Mountain Highway North Conway, NH 03860.
Settlers Corner
Explore The Home Depot, HomeGoods and Staples for your home and office needs at big savings. – Located at 19 Barnes Road, North Conway, NH 03860.
Settlers Green Streetside
Now open, Settler's Green Streetside is the destination for the avid shopper. Offering tax-free shopping at a variety of stores including Columbia, Michael Kors, Polo Ralph Lauren, Francesca's, Skechers, and Think Kitchen, you are sure to find savings and deals that cannot be matched! Once you've shopped your heart out, grab a bite to eat at Barley & Salt Tap House and Kitchen. Featuring an extensive draught beer list, "street food" menu, and an upscale environment, this restaurant has something for everybody!
Click here to view shops
Specialty Shops Beyond the Outlets
While North Conway is famous for its outlet stores, you'll find several other interesting shops, including some just around the corner from our inn in Jackson Village…
Ravenwood Curio Shoppe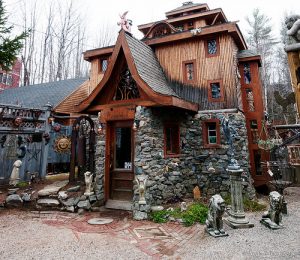 Find an eclectic mix of garden sculptures, pottery, paper, vases, bird baths, brass and copper items, and more. This is your place to find oddities and rarities. Open daily 10:00 AM to 6:00 PM, closed on Tuesdays. Learn more at http://ravenwoodcurio.com/ – Find them at 60 Main Street, Jackson, NH 03846.
The Museum of White Mountain Art
Operated by the Jackson Historical Society, the gallery features research archives and 19th century collections of art, as well as selected pieces by the best contemporary artists. Located in the old Town Hall, which is on the National Register of Historic Places. Open Saturdays from 1:00 to 5:00 PM. Learn more at http://www.jacksonhistory.org/artshow.html. Find it at 23 Black Mountain Road, Jackson, NH 03846.
R&R Woodworkers
Save room on the ride home for some Adirondack furniture handcrafted right here in Jackson with Vermont northern white cedar, which is naturally resistant to moisture, decay and insects. Learn more at http://www.randrwoodworkers.com/index.html – find it at Flossie's below.
Flossie's General Store & Gift Emporium
Here you'll find a wide assortment of items for purchase, from caps to ornaments and books to furniture and antiques. If you find something you love but can't fit it in your car, they do ship either USPS or UPS Ground. Some popular merchandise includes maple sugar candy. It is named after the former town clerk and school teacher, Flossie Thurston Giles, who passed away in 2005. Learn more at http://www.flossiesgeneralstore.com/Find it at Route 16A, Jackson, NH 03846 (right next to the covered bridge in Jackson).
The Cassidy Gallery
Features the work of 45 New England artists in mediums including oil painting, watercolors, acrylics, pastels, printmaking, jewelry, wood, ceramics, glass, mixed media, and fiber. They host monthly demonstrations and discussions. Learn more at http://www.cassidygallery.com/ – Find them off Route 16 North, Jackson, NH 03846. Closed on Tuesdays and Wednesdays.
White Mountain Photography
We sell some of Dana Clemons beautiful images in our own gift shop. At the gallery, you'll find stunning photographs of White Mountain scenery and wildlife for displaying in your home or office, plus abstract and travel images from the world afar. Dana was recognized in 2013 with two of his images in a National Geographic Travel Contest chosen as "Editor's Picks". Learn more at http://whitemountainphoto.com/ – Find his gallery at 95 Main Street, Jackson Village, NH.
Jackson Art Gallery
This gallery features an eclectic mix of contemporary, cutting age work from local artists and artisans producing watercolor monotype, mixed media collage, photography, sculpture, jewelry, glass, cards, scarves, handbags, prints and home furnishings. You can find paintings of our local landscape. The gallery is open Saturdays from 11:00 AM to 5:00 PM, other days by appointment or chance. Learn more at http://www.jacksonartnh.com/ – Find them at 155 Ridge Road, Jackson NH 03846.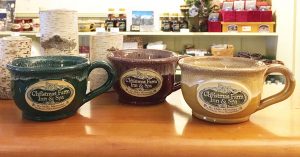 The Christmas Farm Inn Gift Shop
Right here in our New Hampshire Inn, you can find souvenirs of your trip to the White Mountains. You know you need to take home a hat, a coffee mug, or some of the Scented Soaps by Karen Smith.
These are just a few of your options when your White Mountain getaway calls for some retail therapy!
History of Christmas Farm Inn Name
The Inn is not 'Christmas themed' but rather received its name from the gifting of the property at Christmas time – renamed the 'Christmas Farm' in honor of the season and spirit of the gift.
LEARN MORE OF THE HISTORY