Property Map of Our White Mountain Resort
WHITE MOUNTAIN RESORT WITH JACUZZI SUITES, COTTAGES, SPA & RESTAURANT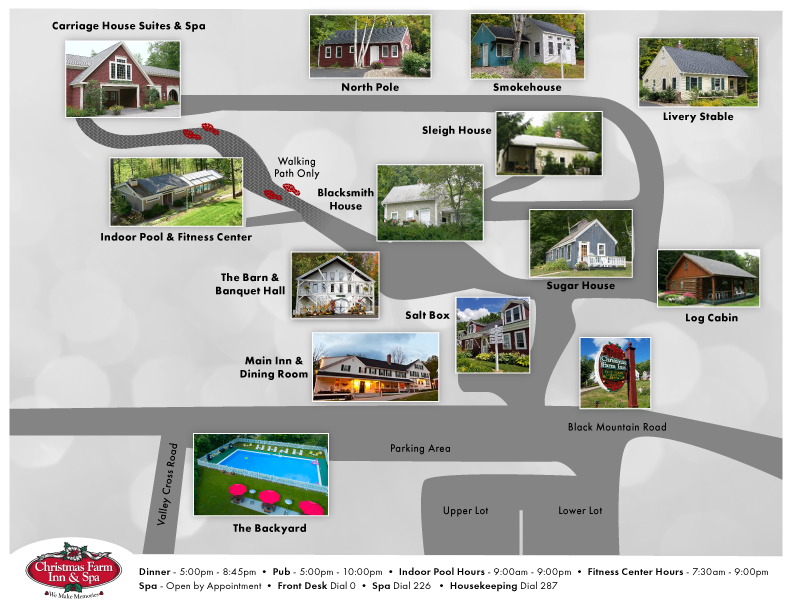 Fifteen Acres of Amenities
Our White Mountain Resort covers fifteen acres with a variety of historic structures, each of which serves a different function. Food, recreation, and relaxation are all easily accessible on the grounds of our estate.
For accommodations, those fifteen acres include the Main Inn, Salt Box, Family Barn, Carriage House Suites, six cottages, and a log cabin. Each space has been customized with its own distinctive theme, allowing us to offer a range of personalized options for a variety of styles. More information on each of these accommodations can be found here.
The Barn serves as a functioning hall for weddings and other special events, acting as the ideal setting for so many beautiful love stories over the years. The upper level of the barn has been transformed into four spacious two-story condos filled with rustic charm. The antique hand-hewn beams and barn board paneling, dating back to the Revolutionary War, add to the historical ambiance of our Family Barn.
The Christmas Farm Inn Spa occupies the Carriage House at the rear of our property, nearby our heated indoor pool and fitness center. From Memorial Day to Labor Day, we also have an outdoor pool for guests to enjoy.
We encourage you to explore the grounds while visiting us so you can fully enjoy your special home away from home at New England's Christmas Farm Inn.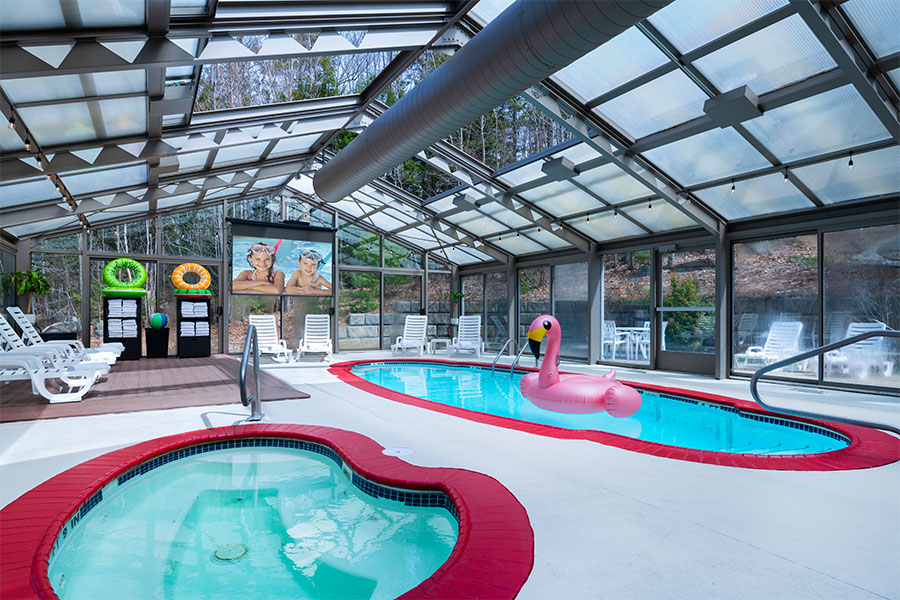 Take a Dip in Our Indoor Pool
Under the same room as our fitness center, our heated indoor pool is the perfect way to relax and rejuvenate during your Christmas Farm Inn vacation. Whether you're looking to get some reading in while enjoying the warm water or to simply lounge by the water, let our heated indoor pool provides a retreat from the outside world.
Or Dive into Our Outdoor Pool Instead
The sun shining down on you, the sounds of birds chirping, and the gentle White Mountain breeze all create the perfect atmosphere for relaxation and rejuvenation at our outdoor pool. Enjoy being surrounded by the beautiful natural scenery, and jump on in from Memorial Day to Labor Day!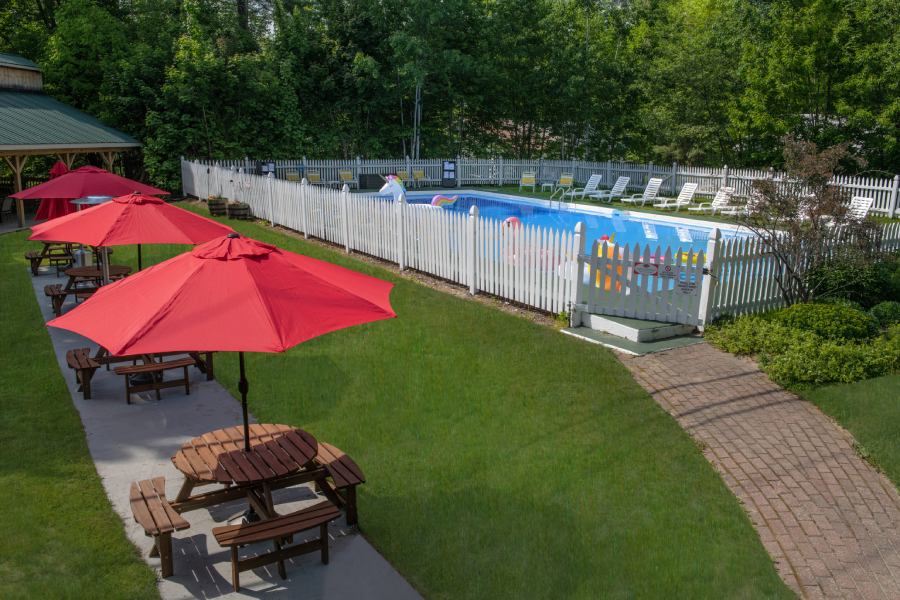 Enjoy The Backyard
Taking your kids out to enjoy our backyard is a great way to create fun and lasting memories during your family vacation! Enjoy a safe and exciting space for your children to run, jump, and play with our variety of yard games and amenities, while you sit back and relax under the cabana. Enjoy the fresh air and unwind as a family.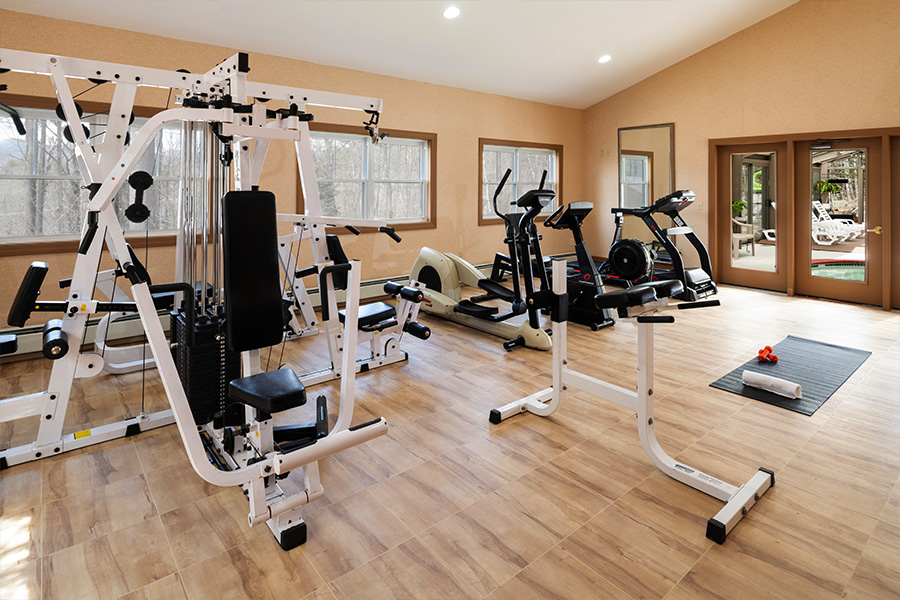 Or Get Some Playtime in Yourself at Our Fitness Center
Staying fit while on vacation has never been easier than with our fitness center! With state-of-the-art equipment and a range of amenities, our fitness center provides a convenient and comfortable space for you to maintain your fitness routine while away from home. Whether you prefer cardio machines like treadmills and stationary bikes, or strength training equipment like weights and resistance bands, we everything you need to stay in shape.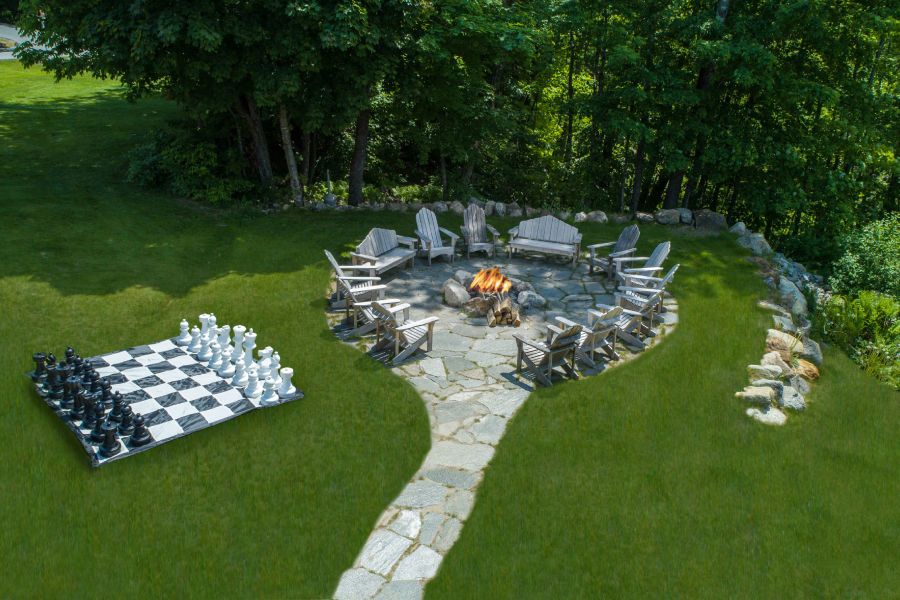 End the Day with S'mores Cooked Over a Fire Pit
Few things are as nostalgic as roasting s'mores over a fire with people you love. Whether you're traveling with family or friends, there's nothing quite like the taste of melted marshmallows and chocolate sandwiched between graham crackers. The crackling of the fire and the warmth of the flames create the perfect ambiance for an evening of relaxation and enjoyment. Indulge in the classic, nostalgic pleasure of roasting s'mores under the stars at Christmas Farm Inn.
History of Christmas Farm Inn Name
The Inn is not 'Christmas themed' but rather received its name from the gifting of the property at Christmas time – renamed the 'Christmas Farm' in honor of the season and spirit of the gift.
LEARN MORE OF THE HISTORY