5 Reasons to Try Snowmobiling this Season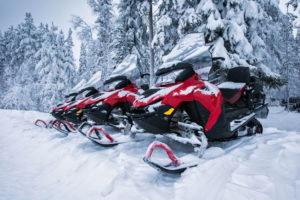 If you've never climbed onto a snowmobile and sped off across the thick, powdery winter snow, we're here to tell you– you are missing out. If you're working on plans for an upcoming New England getaway, we highly recommend you block off some time for snowmobiling in the White Mountains. We've got 5 great reasons why you should try snowmobiling this season. Take a tour, rent snowmobiles with your friends or family, and see what it's like to effortlessly zip through a remote winter wonderland with views unmatched anywhere.
1– It's a great way to experience nature.
Snowmobiling is a wonderful way to enjoy nature, and get outdoors even when the snow is piled high. Work with the weather and not against it in this winter activity, as you spend time outside with your favorite people, taking in the sights and experiencing the White Mountains in a whole new way. Few people get the chance to explore the backcountry beauty in the dead of the winter season, but on a snowmobile, you can take on the mountains, forests, and plains all blanketed with fresh snow.
2– You can tap into your adventurous side.
Talk about an adrenaline rush! Snowmobiling gives you an opportunity to get adventurous on your trip to the White Mountains. Whether you're gliding over snowy fields or zipping between trees on a mountain trail, odds are, you'll have the time of your life. You can go as fast or slow as you want to, and follow the trails or take the road less traveled- it's all up to you!
3– It allows you to access remote areas.
On a snowmobile, you can cover a lot of ground quickly and easily. They also offer a mobility unrivaled by other vehicles, giving you the ability to access remote areas, incredible natural beauty, and untouched scenic overlooks that can't be reached by any other means. Find solitude in nature on the back of a snowmobile.
4–It's easy to learn.
Learning to ride a snowmobile is relatively easy, making this winter activity accessible to pretty much anyone interested in giving it a whorl. Just make sure you carefully follow the safety guidelines, and work with an instructor the first time out. If your group is feeling nervous about venturing out into the wild on your own, consider booking a guided tour. Northern Extremes Snowmobiling in North Conway offers lots of rentals and tour options to explore.
5–It's incredibly fun.
Vacations are all about fun and new experiences, and snowmobiling is nothing if not fun. Try something new on your trip, and enjoy nature with this thrilling experience you can't recreate anywhere else. Experience the mountains and the winter snow in a brand new way next time you visit us at the Christmas Farm Inn. Our team will be happy to point you in the right direction if you're ready to rent snowmobiles or book a guided ride. Learn more about snowmobiling in the White Mountains, and other fun wintertime activities to enjoy in Jackson, NH on our website. We can't wait to host you at the Inn! Book your stay today.