White Mountain Spa Packages
OVERNIGHT SPA & STAY PACKAGES
Romance Spa Package
Enjoy a White Mountain Spa & Stay Getaway! Starting at only $378, enjoy a two night stay in a traditional Inn room or from $518 enjoy a two night stay in a Carriage House suite with 2 person jacuzzi bath, king bed, gas fireplace and private deck. We'll have a bottle of champagne waiting in your room. Your stay also includes a visit to our Aveda Spa for 2 one hour treatments of your choice with Aveda or ilike products, customized to your needs. Take advantage of our Jackson NH spa packages for couples. Seasonal restrictions apply.
Spa Packages – Your Way!
We have done away with pre-selected spa packages, instead we let you choose exactly the treatments you want and reward you for your business;
Book any two full-length treatments per person and receive 5% off:
Book any two full-length treatments per person and receive 5% off OR
Book any three or more full-length treatments per person and receive 10% off
Inn guests receive an additional 10% off Aveda and ilike retail products during their stay with us when booking two or more treatments
Combine this with your choice of accommodation at the Christmas Farm Inn for a perfect weekend getaway.
Girlfriends Get-Away
Save with discounted and tax-free shopping at Settler's Green outlet stores…and then splurge on yourself! Save $10 off any 60 minute Aveda spa treatment and 25% off Aveda and ilike retail products. Please schedule all treatments in advance of arrival. Small group bookings welcome – just tell us if you want it with or without the cheese and wine!
Gifts? Incentives? Rewards? Ask about our Spa Gift Certificates and Aveda and ilike retail products for the perfect gift!
How friendly are you? Share if you dare in one of our cottages or barn loft studios, or book individual rooms! Our barn rooms sleep 2-8 and our cottages sleep 2-6.
Give us a call at 800-443-5837 or book online.
Package includes:
Accommodation is a room type of your choice1-hour facial or massage in our Aveda Spa
One 3-course dinner in our dining room
Full continental breakfast each morning
Shopping discount booklet to Settler's Green
Nightly fire pit and star gazing optional
Add a bottle of wine and cheese platter to your room for $47 plus tax.
(Packages cannot be used in conjunction with other promotional offers including promotions featured on this or other websites)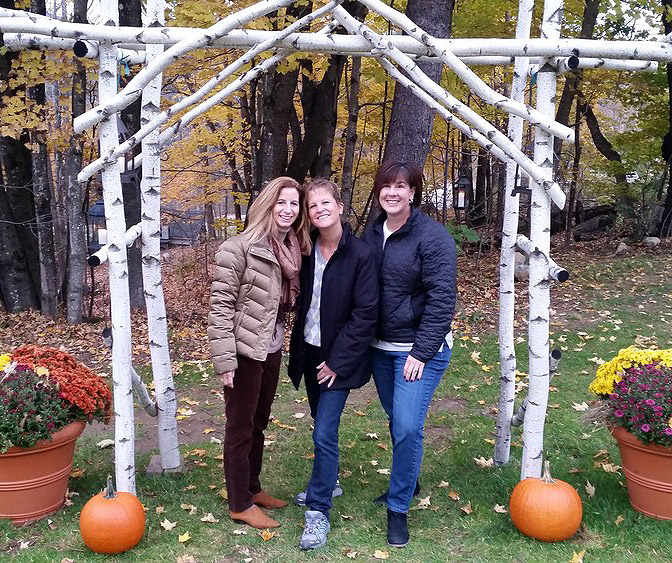 "This is my 3rd trip to this spa for massage, and, although it didn't need to, it keeps getting better! The staff goes out of their way to make us feel comfortable and valued, and the setting is beautiful.. Words can't describe the massages given by Linda, other than I wish I could go there every day for the rest of my life! Heavenly!! Can't wait to return!!!!!"
— Lori BR, Providence, Rhode Island
"I indulged in a facial..., while my significant other. went for an hour long massage... Both were heavenly. The people here are so friendly and knowledgeable. They make you feel right at home. So glad we decided to do this; it won't be our last time at CFI..."
— Lauren L., Southcoast, MA
"Enjoyed a fabulous massage at the Spa just prior to making the five our trip home. It was such a relaxing experience and the whole Spa area is a great addition to the overall experience at the Inn."
— Penny, Queensbury, NY
History of Christmas Farm Inn Name
The Inn is not 'Christmas themed' but rather received its name from the gifting of the property at Christmas time – renamed the 'Christmas Farm' in honor of the season and spirit of the gift.
LEARN MORE OF THE HISTORY