New England Holiday Event
A Jolly Evening with Mrs Claus
Only 30 Tickets Left! Book Now!
Enjoy a magic-packed holiday event weekend with the family at our historic New England Inn!
We have an abundance of family-friendly accommodations to suit all budgets, including many large traditional inn rooms, family loft studios in our barn, two bedroom and two bath cottages with large living rooms, and large suites with living room and sofa beds.
Follow the steps below to secure your reservation:
Step 1:
You must fill out the Booking Form with your booking dates and accommodation preferences!
Step 2:
Sit back and relax! Our Elves will follow up on a first come first serve basis. Once you've received your proposal, and we've answered all your questions, you can call to book!
Step 3:
Present your family with a fun-filled weekend they'll never forget!
Booking Form
Package Details:
Mrs. Claus is coming to town! Join the jolliest hostess of all for a fun-filled, festive Christmas Feast in the historic Barn of the Christmas Farm Inn. Celebrate Christmas traditions old and new with an evening of music, great food, story-time and one-on-one time with Mrs. Claus. Sing along to your favorite holiday songs and delight in a cozy story-time with Mrs. Claus. Kids will receive a special gift from Mrs. Claus!
Dates for 2022:
Choose your dinner event on either Friday or Saturday night at 5.30pm
Package available for 4 weekends
November 25th–27th
December 2nd–4th
December 9th–11th
December 16th–18th
Your Jolly Evening with Mrs. Claus Includes:
An exclusive dinner event with Mrs. Claus in our historic Barn, decked out in holiday décor and featuring a 15-foot Christmas tree! This event includes:
A family 3-course dinner
Dinner gratuities
Live entertainment
A reading and book signing with Mrs. Claus herself!
Continental breakfast each morning
10% off spa services & 25% off spa retail items
Not Included: Drinks at dinner, Train Tickets, Jingle Bell Chocolate Tour tickets
Choose your perfect room!
We have four distinct room types for you to choose from!
Please note that we sell our large family rooms for the full capacity of the room, i.e. we will not book a family of four in a room that can accommodate more guests.
Family Barn Studios
Upstairs in the barn, the original haylofts have been converted into four large two-story condo-like spaces. Rustic antique hand-hewn beams and original barn board paneling beneath the chair rails are from ancient trees that were old even at the time of our country's Revolutionary War! Tall cathedral ceilings and uniquely crafted spaces make these studios an accommodation you won't forget!
Family Barn Studios up to 6 guests
2nd floor: studio with own outside entrance, 400 square feet space over two floors Sleeps 4-6 guests
2nd floor: sitting-room with queen sofa­-bed, bathroom
3rd floor: large bedroom with one king bed and two twin beds
Family Barn Studios up to 8 guests
2nd floor studio with own outside entrance 600 square feet space over two floors Sleeps 6-8 guests
2nd floor: private king bedroom, bathroom and sitting-room with queen sofa-bed
3rd floor: large bedroom with one double bed and two twin beds
Both Options Include:
Flat screen TV in sitting room
Mini-fridge
Coffee maker
Radio clock
Telephone
Iron and iron board
Hair dryer
Carriage House Suites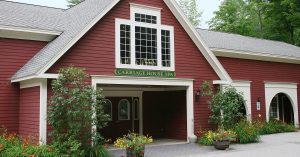 Set high on a hillside above the Main Inn in Jackson NH, the elegant carriage House has twelve deluxe jacuzzi suites in NH with a king bed, 2-person Jacuzzi tub, spacious and elegantly furnished sitting room with gas fireplace, cable TV, refrigerator, and lovely views of our property and the White Mountains. The Carriage House has a central Great Room with a massive stone fireplace, perfect for intimate gatherings, privately catered parties, and romantic getaways in New Hampshire.
Details
Large bedroom with a King bed (room 6 is a handicap-accessible room with a king bed)
6 suites with queen sofa-beds
Separate sitting room with private balcony Gas fireplace in sitting room
Large bathroom with Jacuzzi bath tub and walk-in shower
Flat screen TV in each room
Mini-fridge, sink and wet bar
Coffee maker
Radio clock
Telephone
Iron and iron board
Hair dryer
Handcrafted Cottages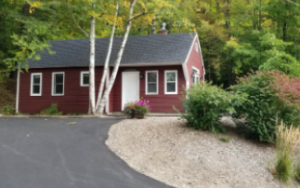 As you wind your way up Dancer Way, you'll find seven adorable one-of-a-kind cottages dotting the gently sloping hillside. Each charming cottage rental in Jackson NH is artfully handcrafted and lovingly furnished, with a spacious sitting area and fireplace. Each cabin has a unique personality, all reminiscent of an old-fashioned New England cottage village.
1-Bedroom Cottage:
Sleeps 4 guests
1 bedroom with a king bed
1 en-suite bathroom
Separate sitting room with queen sofa-bed
Flat screen TV
Jacuzzi Tub
Gas fireplace
Mini-fridge
Coffee maker
Radio clock
Telephone
Iron and iron board
Hair dryer
2-Bedroom/2-Bathroom Cottages:
Sleeps 6 guests
2 bedrooms;
Bedroom 1: Two Twin Beds
Bedroom 2: One king bed
2 en-suite bathrooms
Separate sitting room with queen sofa-bed
Flat screen TV
Fireplace
Mini-fridge
Coffee maker
Radio clock
Telephone
Iron and iron board
Hair dryer
Open Loft Cottage:
Sleeps 7 guests
King bed in main living area
3 twin beds in loft area
Sitting room with queen sofa-bed in main living area
1 bathroom
Flat-screen TV
Fireplace
Mini fridge
Coffee maker
Radio clock
Telephone
Iron and iron board
Hair dryer
Pet-friendly
Traditional Inn Rooms
Our Traditional Inn Rooms are located in the Main Inn and Salt Box, right at the heart of the property.  All rooms have private bathrooms and offer cable TV, mini fridge, tea kettle and coffeemakers.
Perfect for a family who wants to be close to the restaurant, the hustle and bustle of the pub, and cozy living room.
King, Twin w/ Trundle:
King bed
Twin Trundle bed
Flat screen TV
Bathroom
Iron and iron board
Telephone
Tea Kettle
Coffee machine
Fridge
Journey to the North Pole
Believe in Books, organizers of the Journey to the North Pole event, are selling tickets directly to the public from spring 2022! We do not offer these tickets as part of our package.
Click this link to see pricing and availability: click here
Important: Please make sure to book your train tickets and Mrs. Claus Dinner Event on separate days as there would not be enough time to schedule both on the same date. For example: If you buy your train tickets for Friday, please book your Mrs. Claus dinner with us on Saturday.
Nestlenook Sleigh Ride
Sit back and enjoy a picture-perfect journey through a 65-acre Victorian estate aboard a custom-crafted, horse-drawn Austrian sleigh built to carry 10 to 15 people. Or reserve a more intimate outing in a one-horse open sleigh.
Stay for some old-fashioned ice-skating or to warm your hands over the outdoor fire it whilst enjoying a hot chocolate.
Click this link to visit the website:click here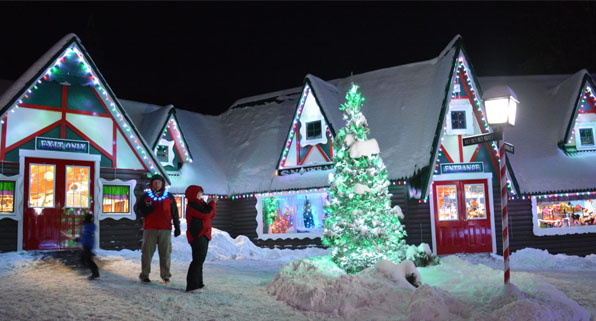 Santa's Village
Santa's Village is looking forward to the return of our Christmastime schedule in 2022.
There is something about visiting Santa's Village during our Christmastime season that is extra special. With Christmas carols heard throughout the park, the possibility of snow on the ground, and about one million lights illuminating the park at dusk, a visit during this time of year is sure to put you in the holiday spirit.
Click this link to visit the website: click here
Jingle Bell Chocolate Tour
Be sure to sign-up for the Jingle Bell Chocolate Tour on our Request Form to experience the chocolatey ride!
Sleigh rides run every hour from 11:00 AM to 4:00 PM on November 19th and 20th, November 26th and 27th, December 3rd and 4th, December 10th and 11th, and December 17th and 18th. This sleigh ride event is only available through participating lodging partners and is always sold out.
Let us know you're interested and we will include it in your quote!
Indoor Pool
Make sure to pack your swim stuff and keep an eye out for Blitzen; this is his favorite spot to hang out when Mrs. Claus comes to town! There is also a fitness center and changing rooms in the same building.
Spa
Our Aveda Spa offers first-class facilities including 7 treatment rooms and a cozy relaxation lounge. Choose from hot stone, deep tissue and CBD massages as well as customized Aveda facials and body treatments. Our experienced technicians will add the magic of relaxation and rejuvenation to your special get-away. You enjoy 10% off all spa services as well as 25% off Aveda retails with this package.
History of Christmas Farm Inn Name
The Inn is not 'Christmas themed' but rather received its name from the gifting of the property at Christmas time – renamed the 'Christmas Farm' in honor of the season and spirit of the gift.
LEARN MORE OF THE HISTORY