Family Suites & Meeting Space
THE FAMILY BARN STUDIOS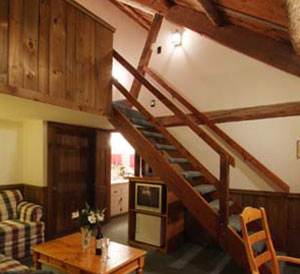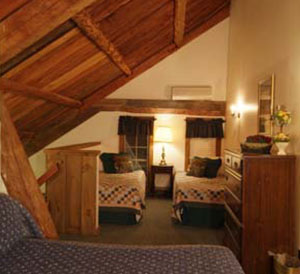 One of the oldest structures on our property, the Christmas Farm Inn Barn is a multi-purpose structure that lives and breathes activity and celebration!
Upstairs in the barn, the original haylofts have been converted into four large two-story condo-like spaces. Rustic antique hand-hewn beams and original barn board paneling beneath the chair rails are from ancient trees that were even old at the time of our country's Revolutionary War! Tall cathedral ceilings and uniquely crafted spaces make these studios an accommodation you won't forget!
These studios are perfect for extended families with children and small groups of friends. They offer full baths, air conditioning, flat-screen TV, telephones, coffee makers and refrigerators.
Barn Room 1 – "Balsams"
2nd floor studio with own outside entrance
600 square feet space over two floors
Sleeps 6-8 guests
2nd floor: private king bedroom, bathroom and sitting-room with queen sofa-bed
3rd floor: large bedroom with one double bed and two twin beds
Flat-screen TV in sitting room
Mini-fridge
Coffee maker
Radio clock
Telephone
Iron and iron board
Hair dryer
A/C
Barn Room 2 – "Hemlock"
2nd floor studio with own outside entrance
600 square feet space over two floors
Sleeps 6-8 guests
2nd floor: private king bedroom, bathroom and sitting-room with queen sofa-bed
3rd floor: large bedroom with one double bed and two twin beds
Flat-screen TV in sitting room
Mini-fridge
Coffee maker
Radio clock
Telephone
Iron and iron board
Hair dryer
A/C
Barn Room 3 – "Pine"
2nd floor studio with own outside entrance
400 square feet space over two floors
Sleeps 4-6 guests
2nd floor: sitting-room with queen sofa-bed, bathroom
3rd floor: large bedroom with one king bed and two twin beds
Flat-screen TV in sitting room
Mini-fridge
Coffee maker
Radio clock
Telephone
Iron and iron board
Hair dryer
A/C
Barn Room 4 – "Spruce"
2nd floor studio with own outside entrance
400 square feet space over two floors
Sleeps 4-6 guests
2nd floor: sitting-room with queen sofa-bed, bathroom
3rd floor: large bedroom with one king bed and two twin beds
Flat-screen TV in sitting room
Mini-fridge
Coffee maker
Radio clock
Telephone
Iron and iron board
Hair dryer
A/C