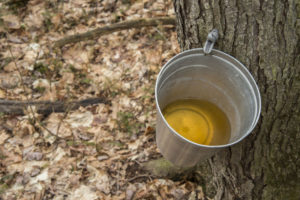 March is Maple Month, and we've got a real sweet tooth for this liquid gold that flows from the trees in our area. Visit us at the Christmas Farm Inn for a sweet escape during this exciting time of year. You can also visit local maple houses during the statewide "Maple Weekend," which is March 20th-21st.
A Quick History of Maple Sugar
Maple sugaring was not new to New England when the Pilgrims arrived at Plymouth Rock in 1620. The Native Americans had been making sugar from the tree sap for many years. In fact their processes of making sugar date back to as early as 1609. According to legend, the Iroquois chief Woksis once threw his tomahawk into a maple tree one late winter evening, and upon retrieving it the following morning, found sap flowing from the tree, collecting it in a container at the tree's base. The sap was used to boil meat for meals, and after the water in the sap boiled away, a sweet maple flavor was left behind.
Sugar Making for Early Settlers
This sweet product of the forests of New England was very important to the early colonists. In addition to its role as a homemade sweetener, the maple sugar was also sold or used for trade to bolster their livelihood. This sugar was also important to early New Englanders because it was a sugar not processed by the slaves of the West Indies. In fact, Thomas Jefferson, the third president of the United States, was so in favor of the U.S. producing its own maple sugar that he started a plantation of sugar maples at his own home.
March Maple Madness
This time-honored New England tradition has become a big draw for vacationers and locals alike, as they celebrate the rich history of this liquid gold and what it has meant for our people over the years. This rich tradition has been celebrated across the state of New Hampshire for more than 75 years now. The New Hampshire Maple Producers Association (NHMPA) organizes several public events throughout the year, including Maple Sugaring Month, which spans the four weekends of maple madness. Check out the NHMPA's directory of local sugar houses you can check out during your visit. Each sugar house will have its own COVID protocols for visiting and/or purchasing products during the pandemic, so check their listings or call ahead for details about online ordering, appointments to visit, and more.
Tap into maple this spring, and join in on this beautiful, old-fashioned tradition of making maple syrup. From tapping the tree yourself to tasting delicious maple syrups and other sweet treats, you can experience the entire process from start to finish. Learn more about the fun of Maple Month on our site, and book your sweet stay at the Christmas Farm Inn today!