New Hampshire's White Mountains are a Sight to Behold
When it comes to stunning natural formations, the White Mountains are in a class all their own. Covering about a quarter of the state of New Hampshire, this mountain chain is part of the northern Appalachian Mountains and are well known for being the most rugged mountains in New England. Here at Christmas Farm Inn, we are fortunate enough to be in close proximity to this beautiful mountain range, allowing our guests to take in the majesty of the White Mountains during their stay at our historic Jackson Inn. In part one of a two part blog series, we wanted to take some time to go over some of the reasons that the White Mountains may just be the perfect setting for your wedding day. Continue reading to learn more.
A Naturally Beautiful Setting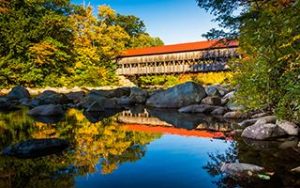 When planning a wedding, people tend to want a "wow" factor to be included so they and their guests experience a celebration they will never forget. Some couples opt for elaborate dance routines, while others spend thousands of dollars on decorations, or travels to exotic ceremony locations. With a time and place for everything, we must attest that a celebration with the backdrop of the gorgeous White Mountains is an experience that a couple and their guests will be hard-pressed to forget. The landscape combined with the look and feel of our wedding venues makes for a setting that is as close to perfect as you can get.
Multiple Wedding Venue Options
We would be remiss if we did not mention the fact that we offer multiple venues on the Christmas Farm Inn property. Whether you are looking for intimate vows under the sky, a rustic ceremony in our barn, wish to toast the happy couple over dinner within an endlessly customizable tent venue, or prefer a small ceremony in front of the fireplace at our Carriage House, we have the space to make your day as magical as possible. What's more, after saying your vows, dancing the night away, and bidding guests farewell, newly weds can enjoy the breathtaking sight of the night sky against the backdrop of the White Mountains – a scene that is sure to stay forever in memory.
Join us next time as we continue to go over some of the reasons that we feel our White Mountain wedding venue is the perfect place for couples to get married. If you are already convinced by this post that Christmas Farm Inn is the wedding venue that you have been searching for, please visit our website to get in touch with us or give us a call at (603)-383-4313. With years of experience hosting weddings, we are certain that we can provide you with an unforgettable day and memories that you and your spouse will cherish for the rest of your lives.