Create cabin memories you'll cherish for a lifetime! Make Your Reservation
The Ghoullog at
CRANMORE MOUNTAIN
For those age 10 and older…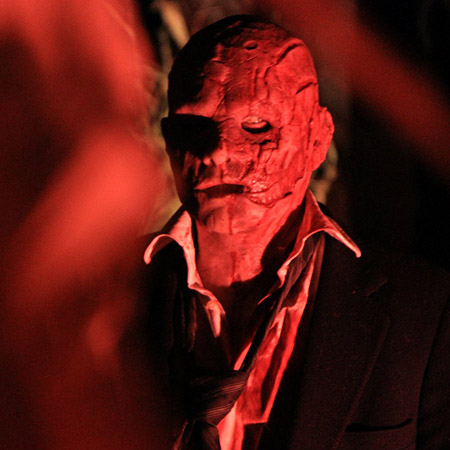 Play havoc with your fears and test them at The Ghoullog at Cranmore Mountain!
Travel into a town within the woods of the GHOULLOG. A once thriving town that now has been deserted, left to rot away, due to an unknown virus that seems to have infected everyone who lives or visits here! It may be an airborne virus, or perhaps it could be in the water? Nobody really knows. Many of the residents have left town before they have become sick. What's left are the infected, maddened by the toxin. If you dare to confront your fears, and roll the dice with your life, then travel through this posioned area…just be careful not to be exposed, because there is no known cure!
The Ghoullog includes a night-time stroll through a haunted walkway to the Quad. After the 7-minute ride to the 2,000 foot summit of Cranmore, visitors tour the Ghoullog, where haunted happenings are sure to frighten and surprise the hardiest souls. While at the summit, spectacular night-time views of North Conway Village below are sure to delight all comers. At the end of the tour, visitors enjoy a ride down the Quad chairlift to the base with a breath-taking vantage of the Moat Mountains and Mount Washington at night."
Please contact the front desk to book your tickets, date and time slot.

AVEDA SPA PRODUCTS
Aveda is one of the leading spa product lines available, and their strictly all-natural product range from sustainable sources, and customer focused philosophy match our vision for the Christmas Farm Inn & Spa to be a holistic place of wellbeing.

JOIN OUR NEWSLETTER
Sign up for great specials and the latest events at The Spa ! Sign up now and receive a gift certificate for 10% Off On Your Next Visit.
History of Christmas Farm Inn Name
The Inn is not 'Christmas themed' but rather received its name from the gifting of the property at Christmas time – renamed the 'Christmas Farm' in honor of the season and spirit of the gift.
LEARN MORE OF THE HISTORY