Enjoy the sights and sounds of Autumn & White Mountains Fall Foliage
OUTSIDE the CHRISTMAS FARM INN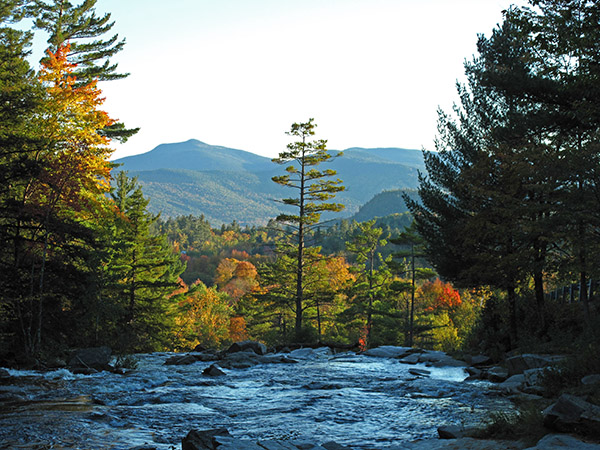 A Relaxing Day at the Inn
Start your day with our hearty, complimentary, country breakfast and take your steaming cup of coffee to one of the rocking chairs on the front porch of the Main Inn. Or, maybe you would prefer a seat outside your own cottage. There are many cozy spots on our 15 acre property to take in the sights and smells of autumn. Later, take a stroll to Jackson Falls and enjoy a picnic along the banks of the Wildcat River with rushing water, natural pools and convenient rock perches. For the adventurer, spend the afternoon exploring the White Mountains by foot. Trails are available for the novice or the experienced hiker. Also, there are rock climbing opportunities and you don't want to miss the fabulous views of the Saco River.
Enjoy the Amenities of the Inn
After your invigorating hike, spectacular drive or stroll through the shops of North Conway or the historic buildings in the Village of Jackson, you can relax with a therapeutic spa treatment at our luxurious Carriage House Spa. Pamper yourself with a massage, facial or one of our many other therapeutic or beauty treatments.
To punctuate your day with a perfect ending, we invite you to dine with us at our Inn. Our kitchen prepares a wonderful assortment of New England favorites as well as steaks, seafood, pasta, and specialty burgers, all reasonably priced and impeccably prepared. You can complete your dining experience with the popular "Chocolate Bag," a unique, and decadent dessert that is a guest favorite and will become one of your fond memories.
The Christmas Farm Inn has the location and amenities to make this year's fall foliage trip a wonderful experience. We are anxious to welcome you to our property and help make your stay a special experience. "We make memories."
History of Christmas Farm Inn Name
The Inn is not 'Christmas themed' but rather received its name from the gifting of the property at Christmas time – renamed the 'Christmas Farm' in honor of the season and spirit of the gift.
LEARN MORE OF THE HISTORY