Wildcat Mountain Zip Rider
HOW BRAVE ARE YOU?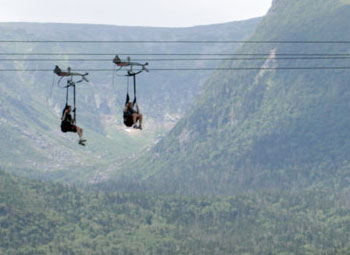 http://www.skiwildcat.com/ziprider.html
Fly Wildcat!
Wildcat's 4-person zip-line descends 2,100 feet over the trails, tree tops and Peabody River.
Reservations are not required – first come, first seved.
You can buy tickets online when making your reservation or at our desk:
Min 52", max 80"
Public rate $20
Our rate $18!
75- 275 lbs

AVEDA SPA PRODUCTS
Aveda is one of the leading spa product lines available, and their strictly all-natural product range from sustainable sources, and customer focused philosophy match our vision for the Christmas Farm Inn & Spa to be a holistic place of wellbeing.

JOIN OUR NEWSLETTER
Sign up for great specials and the latest events at The Spa ! Sign up now and receive a gift certificate for 10% Off On Your Next Visit.
CUSTOMER REVIEWS
"Christmas Farm Inn has always been a favorite of my family; whether your visit is for a special occasion or just an overnight, you are promised wonderful hospitality and delicious food. Enjoy!"
— Jannie194 of Stratham, NH
CUSTOMER REVIEWS
"My fiance and I had dinner at the Christmas Farm Inn in order to make dinner selections for the wedding we have booked there in May. The food was amazing and delicious. Presentation was flawless, everything was perfectly cooked and service was very friendly."
— Jonathan Decelles
CUSTOMER REVIEWS
"Beautiful grounds. Romantic atmosphere. Food was excellent. We celebrated our 10 year anniversary and it was great. We had the Calmari over seaweed which was awesome and the sauce was outstanding. Then had Lobster and Shrimp Scampi… To die for! Look forward to going back. I highly recommend this restaurant."
— James Fleming
CUSTOMER REVIEWS
"Christmas dinner there is amazing. Everything you could want with turkey and gravy, potatoes and all that. It's a diamond in the rough in this area."
— Brandon Andre
CUSTOMER REVIEWS
"Great drinks, great food, great pool/hot tub, affordable, would recommend to friends."
— Andrew Ripley