New Hampshire Adventure Parks
GET YOUR PULSE GOING
Go on an adventure in the White Mountains
Our NH Inn is just minutes away from some great White Mountains Attractions, including adventure parks.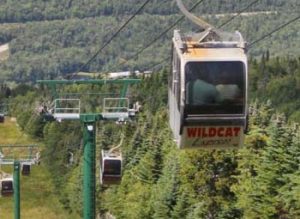 Wildcat Mountain
In the wintertime, people come to these slopes for breathtaking views of snow-covered Mt. Washington. In the summertime, there's plenty of fun activities on over 225 acres of White Mountain National Forest land. Gondolas accommodate four people and take you to the 4,000 foot summit. The ZipRider zipline descends 2,100 feet over treetops as riders are suspended on cables. Alpine Disc Golf offers the challenge of competing against others to use the fewest number of throws from a starting area to reach and have your disc land in an elevated basket. And families will enjoy the ½ Mile Loop at the base area of Wildcat and nearby forest, following paw prints while learning about the natural surroundings at information stations along the route. Summer operations at Wildcat kick off in June and last through Labor Day. You can buy tickets online when making your Christmas Farm Inn reservation or at our front desk. The public rate for persons 13 and older is $15, but our rate is $13! Persons aged 6-12 save a dollar when purchasing through our Inn. Children 5 and under get in free. Purchase the Wildcat Mountain Ultimate Package through Christmas Farm Inn, saving $10 off the public rate. Preview the attractions at http://www.skiwildcat.com/scenic-gondola/
Cranmore Mountain

The Mountain Adventure Park includes the Mountain Coaster, twisting and turning through the woods. Summer Tubing lets riders take the conveyor to the top and then ride 400 feet to the bottom. The Giant Swing tests the bravery of three riders. Enjoy the sensation of flying on the Soaring Eagle as you are suspended 700 feet down the mountainside. Scenic Chairlift Rides allow you to cool off while enjoying great views of North Conway and Mt Washington. Spider Mountain tests users ability to make it through netting and slide town from the top. Kids love the bouncy houses and the Bungy Tranpoline. The Kids Ropes Course lets little ones get into the trees with bridges and zip lines while C-More's Mining Adventure has them panning for gems on the 30-foot water filled sluice. Finally, take the chairlift ride to the summer, then hike a mile to Black Cap Mountain. The public rate for persons 54-inches and taller is $39, but Christmas Farm Inn can get you a rate of $36! For those 38- to 53-inches in height, the public rate is $29, but we can get it for you for $26 (excludes the Aerial Adventure Park or Segway Tours). You can buy tickets online when making your reservation or at our front desk. Learn more at http://www.cranmore.com/summer/mountain-adventure-park
Attitash Mountain Resort

Two slides provide thrills as riders twist and turn down the chutes. The Nor-Easter Mountain Coaster also evokes heart-pounding excitement with a 2,880-foot journey down the mountainside on twin, stainless steel rails. You can free-fall jump from a platform onto a 60-by-60 foot airbag, just like the stuntmen do. Outdoor water slides include the Aquaboggan and Sidewinder while the little ones enjoy Buddy Bear's Play Pool. From June through Labor Day, stables are open for those who want to saddle up. The terrain at Attitash lends itself to downhill and cross-country mountain biking. This fun park is just a 15-minute drive from the Christmas Farm Inn. Open daily 10 am to 6 pm June to September. Spring and fall limited opening times, please check first. You can buy tickets online when making your reservation or at our desk. The public rate for persons 48-inches or taller is $49, but Christmas Farm Inn can get you the Summer Fun Ticket for $45! Those under 48-inches normally cost $25, but our rate is $20! Learn more about Attitash attractions at http://www.attitash.com/alpine-slide/
Bretton Woods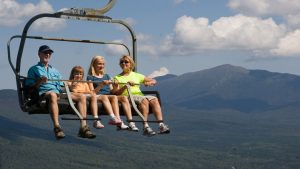 From mid-June to mid-October, the Adventure Center offers a wide variety of activities including Williwaw Racing Zip, Kids ATV Park, archery range, mountain bike and Diggler scooter rentals, disc golf, the indoor Slopeside Climbing Wall, a Go Kart Park, River Tubing, Fly Fishing, and more. The free scenic lift rides put you in position to enjoy scenic views and start hiking or biking down to the base area. Learn more at http://brettonwoods.com/activities/more_summer_fun/overview
Kahuna Laguna

If water is more your speed, check out New Hampshire's largest indoor water park in North Conway. Park attractions include the 3-story tall water slides, Wiki Wave Pool, Bamboo Bay Adventure Tower, Little Kahuna Play Area, Kahuna Court, a 25-person Hot Tub, and an arcade. Learn more at http://www.kahunalaguna.com/waterpark-attractions/
History of Christmas Farm Inn Name
The Inn is not 'Christmas themed' but rather received its name from the gifting of the property at Christmas time – renamed the 'Christmas Farm' in honor of the season and spirit of the gift.
LEARN MORE OF THE HISTORY