If you're planning a romantic New England getaway with your significant other, you're sure to find a wide array of thrilling things to do in North Conway NH. The North Conway/Jackson area is overflowing with natural beauty, small-town charm, shopping, and adventure, and proves the perfect setting for a long weekend away with the person you love the most. Take a break from work, responsibility, and the hustle of real life, and experience all the wonders northern New Hampshire has to offer. Below is a comprehensive list of some of the most romantic things to do around Jackson and North Conway.
1.) Waterfall Tour
The Jackson/North Conway area is ripe year-round with incredible outdoor adventures perfect for you and your significant other. What better way to discover the raw beauty of New Hampshire than a waterfall tour? TLC may have said, "don't go chasing waterfalls," but we find there are few things more romantic than smoochin' beside the cool rushing waters of a beautiful fall. A must-see is Jackson Falls, located in the center of the little New England village of Jackson. Grab some lunch in town and head out for a quick hike to the falls, or better yet, grab some food to go and take it for a romantic picnic for two beside the cascading mountain waters. Another waterfall to check out in the area is Sabbaday Falls, one of NH's most popular coming in with an impressive 45-foot drop. Its history, easy access, and allure make Sabbaday one of the most visited falls in the area. To round out your tour, you'll also want to hit Lower Falls. Great for swimming during the summer months, the Lower Falls stop off features picnic tables, grills, and easy-access bathrooms near the parking area.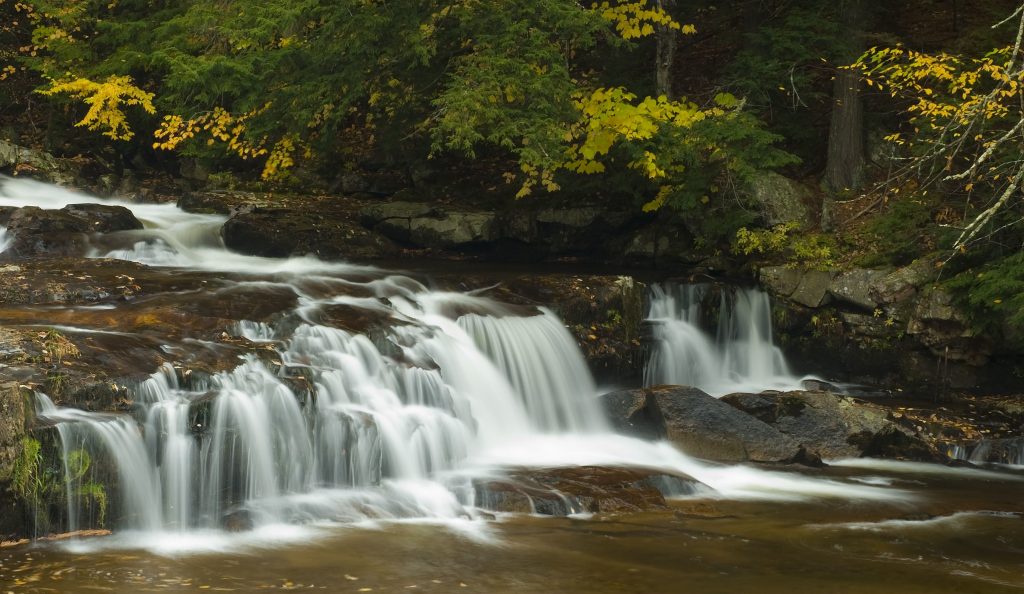 2. Scenic Drive
Take a trip up the infamous Kancamagus Highway, a scenic drive that stretches about 35 miles along NH's Route 112. This incredible drive has been designated an American Scenic Byway for its beauty and rich history. Hop in the car, turn on some tunes, and hold hands while you experience the glory of northern New Hampshire from the comfort of your vehicle. Enjoy breathtaking views while you wind along a path cut through the gorgeous White Mountain National Forest. You'll see the steady Swift River, Sabbaday Falls, Lower Falls, and more as you wind through this lovely mountain highway.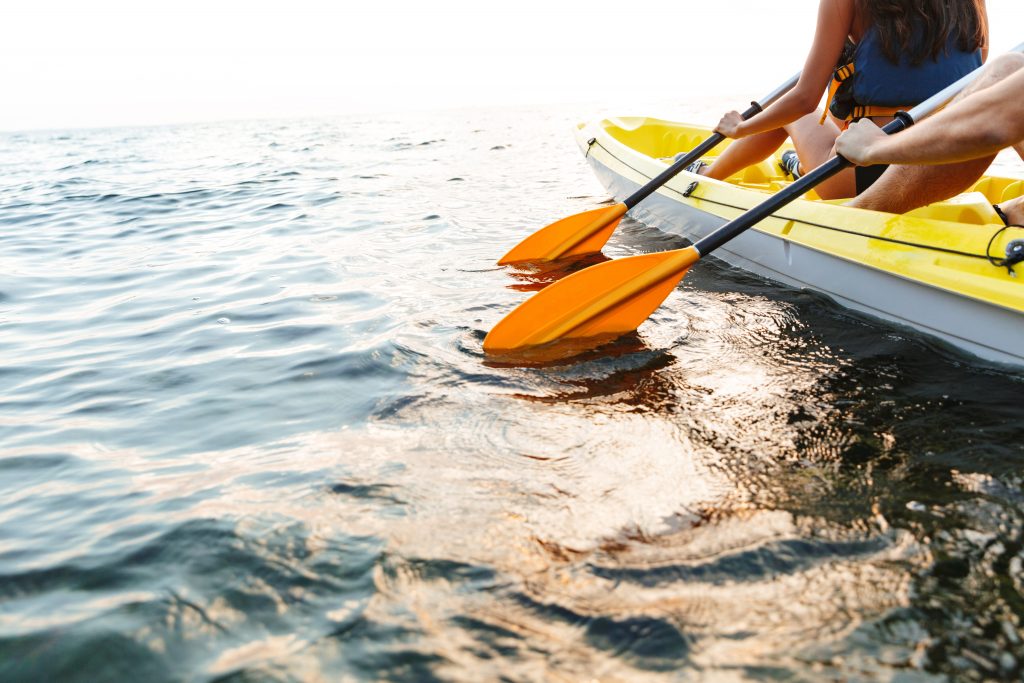 3.) Canoe Trip
We've all seen that scene in the Notebook. Grab your Ryan Gosling or your Rachel McAdams and hop in a boat for an amazingly romantic day on the river. The beautiful Saco River is where you can play out your very own Notebook scene. There may not be swans, but you'll be trading them in for the breathtaking backdrop of the White Mountains spread out against a New England sky. Rent a canoe, kayak or even a tube if the time of year is right, and spend a couple hours cruising down the tranquil Saco. Rent your gear and plan your river trip with ease through Saco Bound Outdoors. You can even try a stand up paddle board if adventure is more your speed!
4.) Brewery Tour
If you and your S.O. are craft beer fans, then you're in for a real treat during your Jackson/NewConway getaway. Be sure to block off a day or evening during your trip for a little brewery hoppin,' so you can sample some of the best microbrews New England has to offer. Make sure to stop off at Sea Dog Brewing Co. in North Conway, a multi-location brewery that boasts a line of delicious year-round brews, as well as seasonal offerings. Other breweries to hit include Saco River Brewing, Hobbs Tavern and Brewing Co., Tuckerman Brewing Company, and Moat Mountain Smokehouse and Brewery.
5.) Romantic Dinner
For many of us, food is our love language, so you've got to have a few romantic meals during your couples trip to North Conway. The historic Christmas Farm Inn features a delicious restaurant that serves up inventive new takes on classic dishes. At the Christmas Farm Inn restaurant you can enjoy an authentic dining experience with every meal cooked fresh to order. You'll love their combination of local and worldly flavors all delivered in a cozy and comfortable setting. Check out the impressive dinner menu, and you'll be sold. Other nearby local restaurants you may want to try include Cider Co., Black Cap Grille, and Deacon Street Restaurant/Martini & Whiskey Bar.
No matter how you and your boo decide to spend your time in New England, it's sure to be a fantastic break from reality. Jackson's natural beauty, North Conway's attractions, craft beers, fine dining, and an abundance of gorgeous waterfalls. Hit life's reset button while you rekindle your relationship fire amid the White Mountains of New Hampshire.
Frequently Asked Questions
Can you tell me more about Jackson Falls? It's an approximately 100-foot waterfall and is conveniently located on the road. No hiking is necessary!
What are the Sabbaday Falls like? The Sabbaday Falls is a little more of a walk than Jackson Falls. It's a 15-minute walk on an evenly graded trail from a paved parking lot, with a stone staircase and gravel walkway directly adjacent to the falls.
So is the Kancamagus Highway just a road? Also known as "the Knac," the Kancamagus Scenic Byway cuts through the White Mountain National Forest and provides views of the White Mountains, the Swift River, Sabbaday Falls, Lower Falls and Rocky Gorge.
What locations can you explore through Saco Bound Outdoors? The water sports outfitter is close to Sebago Lake, Bristol, Laconia, Plymouth and Meredith.
Is Saco River Brewing still in North Conway? The brewery recently relocated to Fryeburg, which is just a short drive away.
Which brewery do you recommend for events? Hobbs Tavern and Brewing Co. keeps their website up to date with fun events for you and your family to enjoy!
Has the Tuckerman Brewing Company always been on Hobbs St? Tuckerman Brewing began in a garage on Main Street in Conway Village, and went through a couple of additional moves before landing at 66 Hobbs St.
Does Cider Co. cater? Yes! White Mountain Cider Company is a full-service caterer for on or off-premise functions.
Is it true that Black Cap Grille serves a Wagyu Beef cheeseburger? Can you believe it? The burger is Snake River Kobe beef with high lawn Alpina cheese, oyster mushrooms and grilled red onion on a butter toasted bun.
Which of your locations do you recommend for an adult beverage? Deacon Street Restaurant/Martini & Whiskey Bar offers hand-picked American whiskey selections and world-class martinis.
What is the most romantic restaurant in North Conway, NH? We are of course biased, but we recommend none other than our Christmas Farm Inn Restaurant!