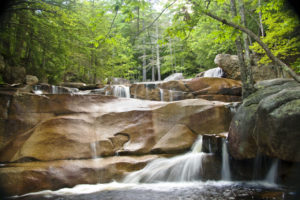 The North Conway area is known for its incredible outdoor beauty, and if you have an upcoming trip planned to the area, one attraction you won't want to skip out on is Diana's Baths. A must-see regardless of the season, Diana's Baths rest just minutes away from North Conway Village, along Bartlett's Lucky Brook. Rocks and ledges work together to create beautiful cascading falls and pools perfect for a little dip in the summer as well as hiking all year round.
There are a million reasons you should visit Diana's Baths when you're in the area, but we've rounded up our top five reasons below.
1– A convenient spot.
Again, located mere minutes from North Conway Village, this natural wonder is convenient and easy to access if you're staying in the area. The hike to the falls is a fairly easy one, about 6/10ths of a mile long on a relatively flat, gravel path. It's also a part of the US National Forest System, so there's a large parking lot at the trailhead. A daily parking pass costs only $5, and even dogs are allowed on this trail.
2– A scenic hike.
Enjoy the scenery as well as a short and sweet hike to the falls and Diana's Baths with your friends or family, or even on a solo jaunt. You can take in all the beauty this short hike has to offer and even venture out to visit other nearby attractions including Cathedral Ledge, Echo Lake State Park, and Whitehorse Ledge. Be sure to also check out these other amazing spots for White Mountains hiking while you're in town.
3– A great photo op.
Diana's Baths is such a beautiful attraction, you'll just have to get a few photos. Whether you snap one of just the falls themselves, or of you and your crew enjoying a swim or hike, there's no denying that this area makes for some great photo opportunities. Gramworthy is an understatement.
4– A refreshing swim.
Are there really any summertime pleasures greater than a creek swim on a hot day? We think not. During the hotter months of the year, Diana's Baths makes a great place for a quick dip or swim with your buddies or children, or even your dog! With multiple levels and dozens of small waterfalls and pools to play in, this spot is sure to become a favorite for anyone who visits.
5– A connection to nature.
Time spent in nature can have many positive effects on us, and it is believed that connecting to the outdoors can relieve stress and improve mental and physical health. There's something renewing about time spent outside! So during your North Conway vacation, visit Diana's Baths, and bask in the beauty this pocket of the world has to offer. We hope you enjoy the scenery that makes North Conway so special, and that you'll stay with us at the charming Christmas Farm Inn.