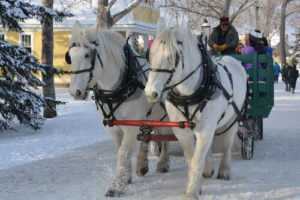 Planning an upcoming trip to New Hampshire? A visit to the White Mountains wouldn't be complete without a quintessential New England sleigh ride. Consider being surrounded by freshly fallen snow, winter's chill nipping at your nose, while you and your beloved are snuggled tightly beneath a blanket on your horse-drawn carriage, trotting along in the local New England village or countryside. The perfect balance for all– child or adult, family or friends! Check out our ultimate guide to booking your Sleigh Ride in NH below to ensure your sleigh ride in New Hampshire is the stuff of winter wonderlands!
The Ultimate Sleigh Rides in NH Guidebook
Jingle Bell Chocolate Tour
Consider the Jingle Bell Chocolate Tour to ensure you're in for a snuggly and delicious horse-drawn experience! The Christmas Farm Inn offers some incredible package options, featuring Australian sleigh rides through Jackson Village, stopping at local businesses for chocolate treats along the way. These special packages are available every November and December, and end with a candlelit dinner for two onsite at the Christmas Farm Inn, just a stroll away from your lodging.
NH Magazine
Book a sleigh ride in the heart of the White Mountains through one of NH Magazines top recommendations. With a slew of hosts, ranging from farms and stables to hotels and inns, deciding what your preferred experience may be the hardest part of making sure your wintery New England dreams a reality.
Visit New Hampshire
Is taking a sleigh ride in NH a mandatory requirement to ensure your New England getaway is done right? We'll let you be the judge of that! One thing is certain, and that's that Visit New Hampshire has a great line-up of state-wide options to choose from, should you decide a sleigh ride in NH is one piece of your perfect NH getaway puzzle.
Scroll down to the "White Mountains Region" section to book a ride nearby to the best accommodations on this side of the White Mountains!
North Conway Sleigh Rides
Nearby the Christmas Farm Inn, just a 15 minute drive down the road, the city of North Conway offers an array of traditional sleigh ride booking options that are sure to satisfy your thirst for winter adventure, while keeping you warm and snuggled in all the while. A North Conway sleigh ride ensures you're taking in the winter scenery in a way that is equal parts unique and fun!
Stay at the Christmas Farm Inn!
Our historic New England Inn offers the quintessential New England experience. With over 200 years of history, our Inn offers the perfect proximity to nature and fun nearby attractions. And with onsite dining, an indoor (and outdoor) pool, and an Aveda day spa, we're certain to make your White Mountain getaway unforgettable!
Additional Winter Activities
Sleigh rides in NH aren't the only way to ensure you and your loved ones make the most of your White Mountain adventure. From skiing and tubing, to nearby Ice Castles and fat tire biking, check out all the other winter wonderland fun our region has to offer! As an added bonus, our friendly and knowledgeable staff love to help guests make the most of their White Mountain experience.