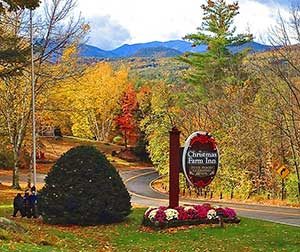 New England is famous for its beautiful fall foliage. Its historically short growing season is responsible, with cold springtime nights, warm days, and brief summers that encourage just the kind of sap flow and chemical production that maximizes fall colors in native trees like the birch, maple, and spruce. The conditions are just right to produce a spectacular show unlike anywhere else in the world. Even Thoreau marveled at this, marveling throughout a whole essay on the topic entitled "Autumnal Tints."
"We love to see any redness in the vegetation of the temperate zone. It is the color of colors. This plant speaks to our blood. It asks for a bright sun on it to make it show to its best advantage, and it must be seen at this season of the year. Some single trees, wholly bright scarlet, seen against others of their kind still freshly green, or against evergreens, are more memorable than whole groves will be by and by. How beautiful, when a whole tree is like one great scarlet fruit full of ripe juices, every leaf, from lowest limb to topmost spire, all aglow, especially if you look toward the sun! What more remarkable object can there be in the landscape? A queen might be proud to walk where these gallant trees have spread their bright cloaks in the mud."
Christmas Farm Inn is in the heart of fall foliage country, surrounded by the beautiful White Mountains. In early September, Visit New Hampshire's website starts a Foliage Tracker and information specific to different areas of the state, including the White Mountains region.
Once you are here, there are many amazing trails of varying difficulties that will give you a great view of the pretty autumn colors, as well as the White Mountains' famous waterfalls.  The trails around the Kancamagus Highway are especially impressive. The Boulder Loop Trail near the Covered Bridge Campground is a simple 3.1-mile loop that isn't too challenging. You'll see Mt. Chorcorua, Mt. Passaconaway, and Middle Sister and have plenty of chances to rest, snap some photos, and appreciate your surroundings.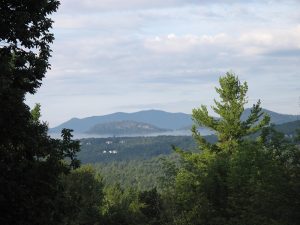 Mount Shaw also offers great views of the area around Lake Winnipesaukee. Mount Kearsarge is a great pick for those with little ones, as the trailhead from Rollins State Park is very short. For older kids, start in Winslow where the trail is a little more challenging. From either direction, you'll reach a summit with a 360-degree view that is sure to wow you.
For those who aren't interested in hiking, the Kancamagus Highway and Mount Washington Auto Road have excellent views from the comfort of your car or motorcycle. If you want to stick close to the Inn, simply rent one of our Carriage House rooms, which have especially good views of the surrounding landscape.
However, if you choose to enjoy the fall colors, be sure to take Thoreau's advice and take it all in. This kind of beauty happens only once a year for a few weeks, and you don't want to miss out on the White Mountains putting on their very best show for you!