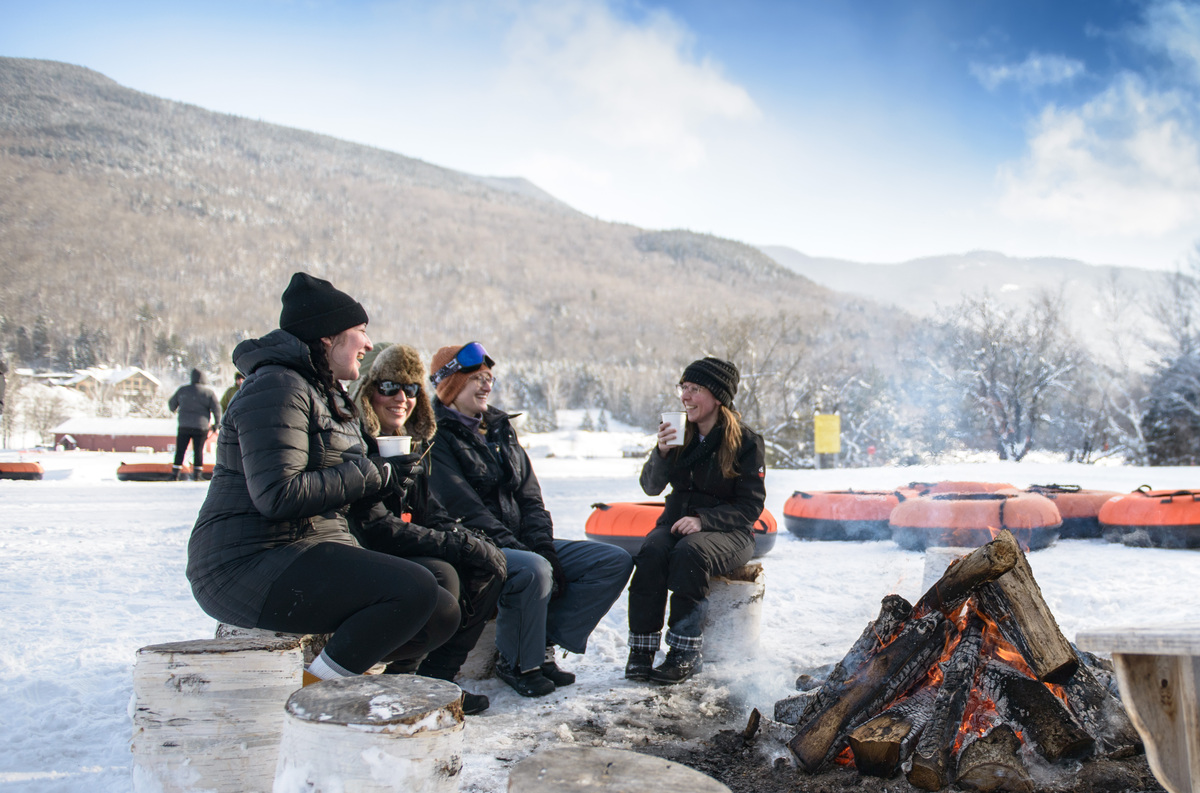 Looking for an outdoor adventure near the Christmas Farm Inn? The Great Glen Trails Outdoor Center, just 13 miles away, is the perfect place to enjoy winter in the White Mountains. Whether you want to go cross-country skiing, snow tubing, or fat biking, they have something for everyone. There are 20 kilometers of groomed trails that are perfect for all skill levels, and 25 kilometers of ungroomed off-track ski and snowshoe trails so guests can explore the wilderness. Let's get into some specifics on what the Great Glen Trails Outdoor Center has to offer!
Snowcoach Tours at the Great Glen Trails Outdoor Center
The Mt. Washington SnowCoach is a one-of-a-kind experience that is not to be missed. With four tracks instead of wheels, the SnowCoach can navigate through deep snow and provide a smooth ride for its passengers. The expert guides narrate the tour, educating Christmas Farm Inn guests about the sub-arctic world they are entering. The SnowCoach is warm and comfortable though, making it the perfect way to enjoy the stunning scenery.
Fat Biking at the Great Glen Trails Outdoor Center
Winter can be a great time to get out and explore by bike, but it does require some special equipment. Fat bikes are designed for riding on snow, with wide tires that provide extra floatation. This makes them ideal for exploring the trail systems at Great Glen Trails in the winter months. Whether you're a seasoned cyclist or a complete novice, fat biking is a great way to enjoy the winter scenery.
Snow Tubing at the Great Glen Trails Outdoor Center
Now here is a fun, old-school activity that all of us at Christmas Farm Inn love! Great Glen Trails has a tubing hill where you can pick up your tube at the bottom, walk to the top, then slide down and enjoy the ride. Be mindful of other tubers coming down the hill when exiting your tube… Collisions have happened. Their tubing hill is a great way to get some fresh air and exercise!
Cross-country skiing is a unique and exhilarating way to experience the great outdoors, with different techniques catering to different styles. Classic cross-country skiing is the more traditional method, with skis oriented straight ahead and a midsection gripping design to prevent sliding backward. Skate skiing meanwhile uses skis designed solely for gliding, requiring lateral movements to propel yourself forward. Both are possible at the Great Glen Trails Outdoor Center thanks to the various groomed and ungroomed trails!
Only a 15-Minute Drive from Christmas Farm Inn
So yes, if guests at Christmas Farm Inn are looking for a winter wonderland to explore, we cannot recommend the Great Glen Trails Outdoor Center enough. The variety of winter activities and events for families, friends, and groups of all ages, as well as their high-quality rental equipment, including skis, boots, poles, snowshoes, and fat bikes, make it a perfect destination. They even offer a Ski School for beginner to advanced skiers, so what are you waiting for!