Covered bridges in New Hampshire are as romantic as they are historical. There's a nostalgic beauty to each of these one-of-a-kind structures, they invoke thoughts of horse-drawn carriages and couples sheltering from the rain. Each of the covered bridges in New Hampshire has its own personality and feel, with no two being the same. There are over sixty covered bridges in our state, but this list of covered bridges in New Hampshire has eight of our favorites!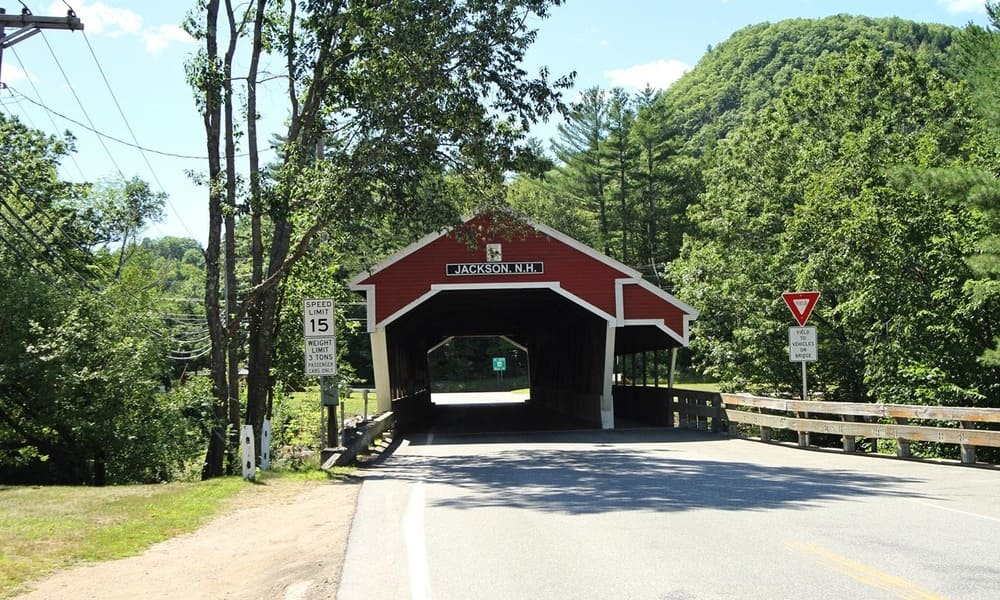 Photography by NHTourGuide.com
This romantic New Hampshire covered bridge is located right here in town! It's signed with the initial of hundreds of couples who have stolen some kisses under this Jackson Village landmark. It's not uncommon to see fiances taking engagement photos within this bridge, and some even pop the question here!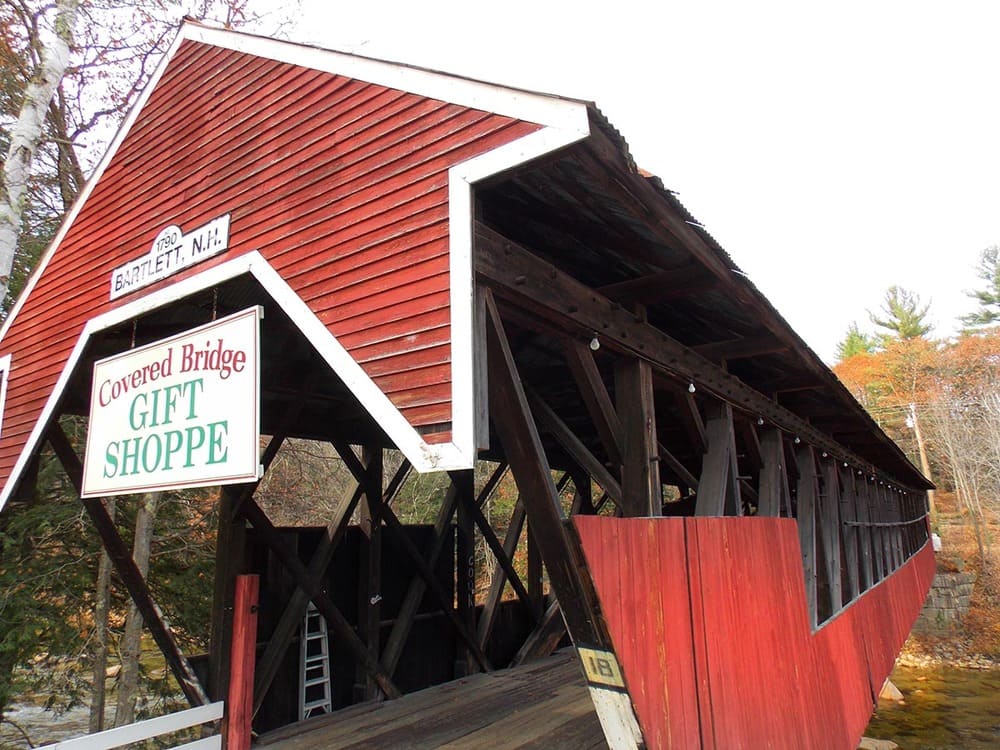 Photography by NHTourGuide.com
You can do more than just cross this covered bridge, this Paddleford truss bridge holds the Covered Bridge Gift Shoppe! Stop by and peruse New Hampshire souvenirs and trinkets on your way across the Saco River. It was originally built in 1851, but it has since been renovated to withstand the weight of the Shoppe.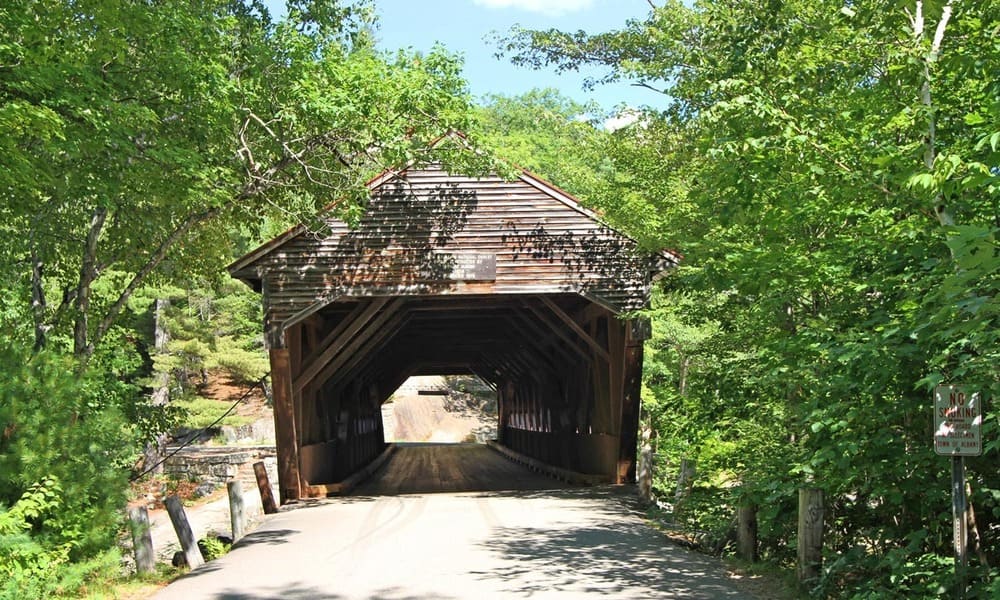 Photography by NHTourGuide.com
This is actually the second Albany Covered Bridge! A year after it was first constructed in 1858, the Albany Covered Bridge was destroyed in a storm. The bridge was rebuilt soon after, we think even better than before. A unique perk of this covered bridge in New Hampshire is that it's along the Kancamagus Highway, one of New England's most loved byways.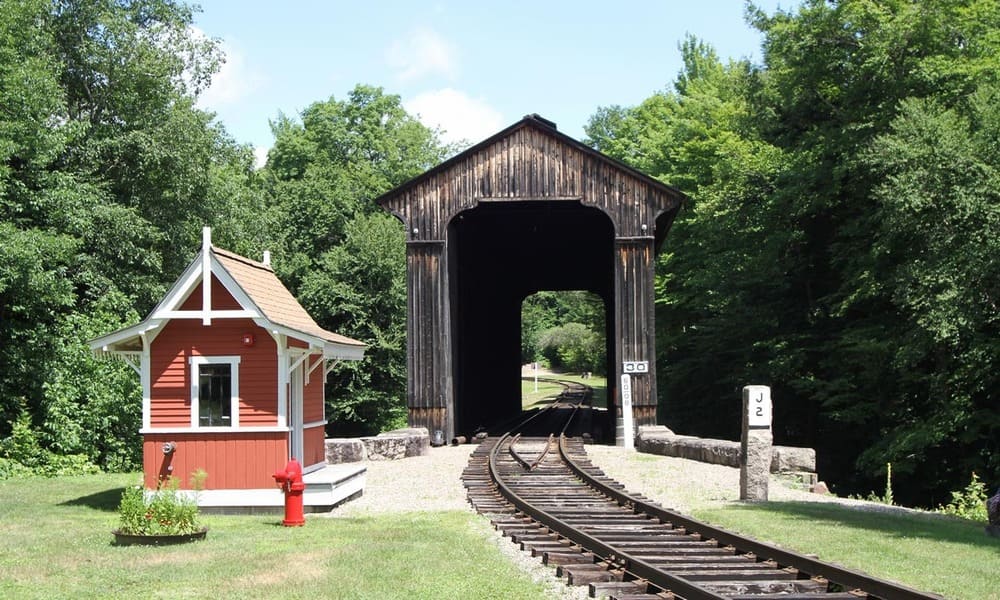 Photography by NHTourGuide.com
Clark's Bridge is the only surviving Howe railroad bridge on Earth. Not only that but it was originally built in Vermont! Ed and Murray Clark, Clark's Trading Post's namesakes, purchased the abandoned bridge when Barre Railroad ceased operations. Then, piece by piece, they moved it to its current home.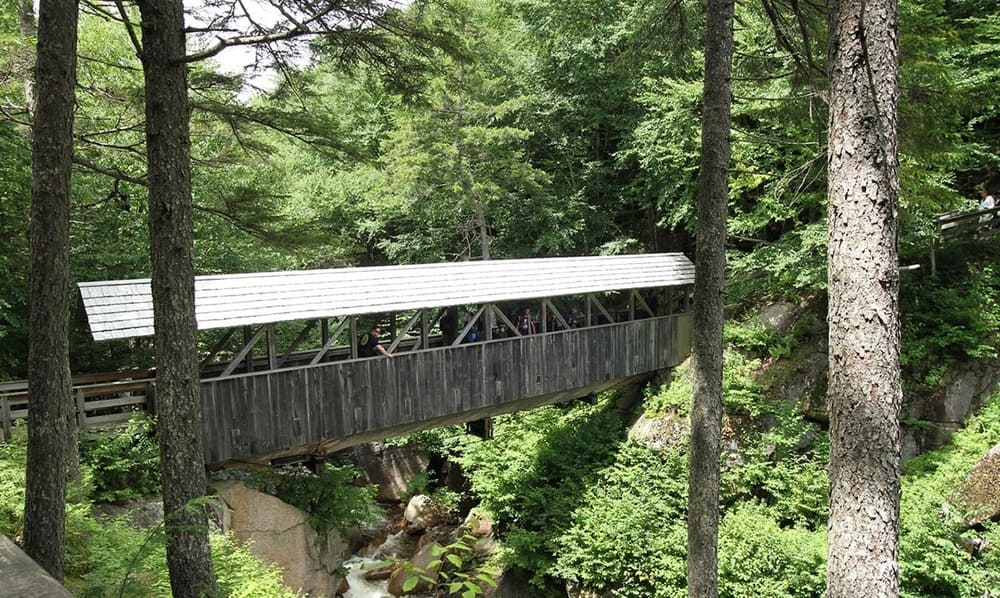 Photography by NHTourGuide.com
Look closely at Sentinel Pine Bridge and you'll notice something truly unique! In 1938 a 90′ pine tree toppled over during a hurricane. That tree was put to creative use by bridging the gorge of the Flume and serving as the foundation for the covered bridge in New Hampshire you see above. To this day the tree remains under the bridge, supporting the visitors above.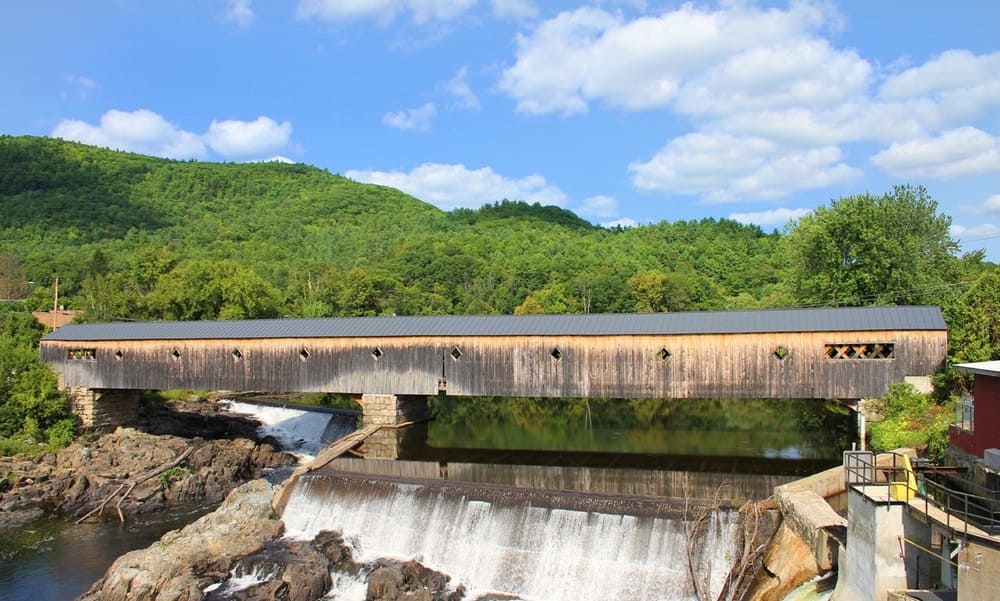 Photography by NHTourGuide.com
Bath and Haverhill are equal owners of the oldest bridge in the state! Both of them donated $1.2K each to build this historic landmark in 1829. Fun fact, the Bath-Haverhill bridge is the earliest still-surviving Ithiel Town lattice truss bridge.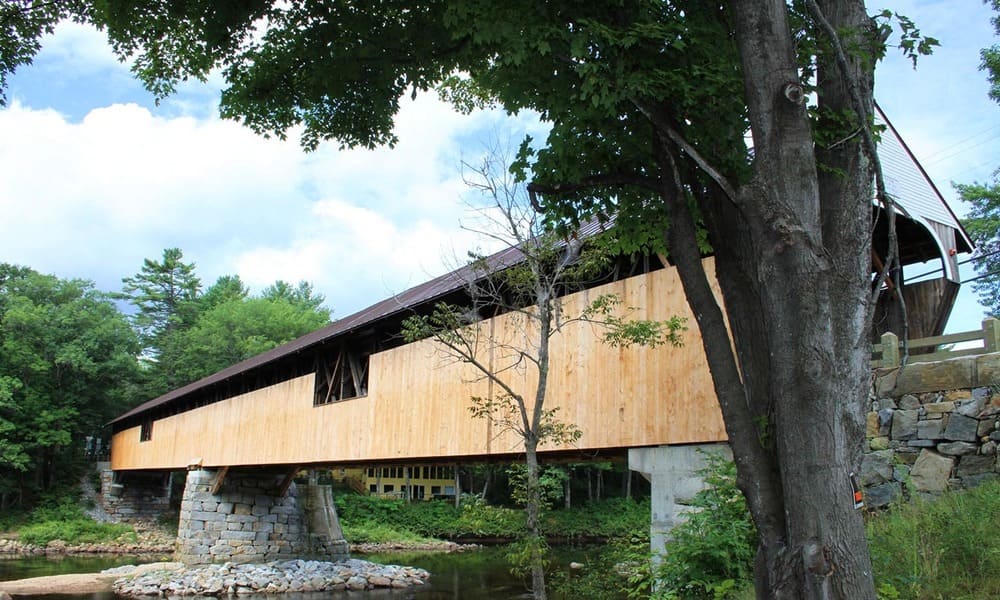 Photography by NHTourGuide.com
While most see the Blair Covered Bridge as beautiful, some out there see it as spooky. The original 1829 bridge was burned down in 1868 by Lem Parker, who stated in court that, "God told me to do it." A horse drowned crossing the river in the bridge's absence, so a replacement bridge was erected in 1869. These two morbid events, along with Tropical Storm Irene's damages in 2011, have helped inspire ghost stories surrounding this New Hampshire bridge.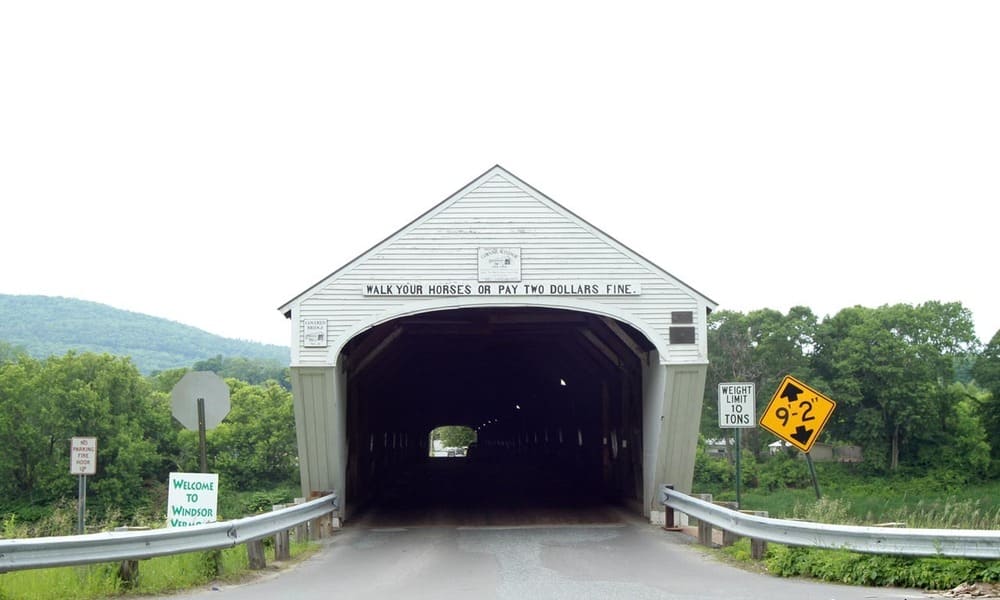 Photography by NHTourGuide.com
Be sure to walk your horse, otherwise you might pay a two-dollar fine! Last but certainly not least, the Cornish-Windsor Covered Bridge It's the only covered bridge in New England that'll take you to another state. Not only that, but this bridge is the longest wooden bridge in the United States (449'5″ long) and the longest two-span-covered bridge in the world. Say hi to Vermont for us!
New England is picturesque in so many ways, and our covered bridges in New Hampshire are just one example. Our land's natural beauty and the beauty of its history combine to make a home that's unlike any other. Find the location of all these bridges in our covered bridges in New Hampshire map, located below, and be sure to stay with us at Christmas Farm Inn while on your covered bridge scavenger hunt!