The White Mountains of New Hampshire are magical year round, but there's something extra captivating about the area in wintertime. This natural oasis and wellspring of adventure has so much to offer residents and visitors alike, and we want to highlight our top three, must-do activities for your White Mountains winter to help you plan your time here at the Christmas Farm Inn.
1– Check Off White Mountains Skiing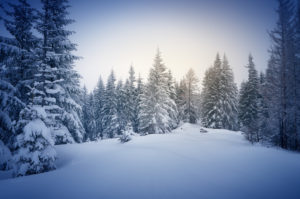 Our first must-do activity is perhaps the most obvious– snow skiing! Of course, New Hampshire's infamous White Mountains draw in a crowd of skiers every year ranging from expert level to novice, and it's not hard to see why. Gorgeous scenery and a variety of slopes, if skiing is your jam– this is the place for you. Be sure to check out this Trip Advisor round up of top ski resorts in the area.
2– Experience Snowshoeing and Snow Tubing
Maybe skiing isn't your cup of tea, but that's alright. White Mountains winter has a lot more adventure to offer outside of the traditional. Which brings us to our second must-do. Skip the skis and strap on a pair of snowshoes instead for your wintery outdoor exploration! Float across the mounds of sugary, powdery snow, through frosted twinkling forests for a winter wonderland experience you'll certainly want to write home about.
Be sure to check out this All Trails list of best snowshoeing trails near Jackson, NH.
3– Mt. Washington SnowCoach Tour
Experience a wintery off-road excursion in the White Mountains with a Mt. Washington SnowCoach Tour! This activity features unforgettable scenery, trees heavy-laden with downy snow, and a beautiful sunrise view– all enjoyed from the comfort of a heated van designed to tackle the terrain. Experience extreme weather in one of the most breathtaking areas around, and make your White Mountains winter one for the books. This is certainly a must-do!
Whether you're a skier, outdoor enthusiast, shopping fanatic, or relaxation guru, a White Mountains winter with us at Christmas Farm Inn will do your soul some good. If we can help you plan your days in the area, or suggest more must-dos, please don't hesitate to ask our staff. And after all your adventuring, snuggle up here at our inn, enjoy a delicious meal at our on-site restaurant, unwind in our Aveda spa, and enjoy the winter of a lifetime.