Families need to get the most out of their trips – and they can with New Hampshire Vacation Packages that ensure their dollars travel farther.
Many of Christmas Farm Inn's special deals revolve around saving you money on local attractions like Story Land, Santa's Village, White Mountain Ski Resorts, or among Journey to the North Pole Hotels (formerly Polar Express Jackson NH). For example, our "Ski & Stay" package allows families to enjoy greatly discounted tickets at skiing Jackson NH venues like Jackson XC, Black Mountain, Wildcat Mountain, Bretton Woods, Attitash, or Mt Cranmore. Arrangements can be made with the front desk so that guests have everything waiting at check-in. Learn more at https://christmasfarminn.com/white-mountain-attractions/new-hampshire-skiing/
When looking for hotels near Storyland in Glen NH, you should consider how close a Jackson NH Bed and Breakfast is to the park (we're only 5 minutes away), plus the included amenities like free breakfast to fuel up for your day of adventure. Story Land and Santa's Village both open weekends beginning May 27th. Save $5 on the admission price at Santa's Village on guest Appreciation Days May 27 & 28, June 3 & 4, and June 10 & 11. Learn more at https://christmasfarminn.com/new-hampshire-vacation-packages/story-land-hotels/
Some of our special packages include Spa Services, Value Add-ons or other amenities. The "Mom & Me" special saves 10% off the cost of manicures or pedicures for families visiting the area for Story Land or Santa's Village. We also allow you to choose the exact treatments you want with discounts per person for booking more than one so you can relax and indulge yourself.
Families or groups can also save on lodging in Jackson NH by sharing space. Christmas Farm Inn's cottages sleep up to 6 guests while barn loft studios sleep up to 8 guests. Close quarters, but perfect for a New England girls getaway, especially when bundled with a spa treatment or 25% off Aveda retail products to take home.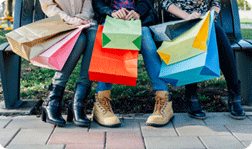 Christmas Farm Inn is also a preferred lodging partner with Settlers Green Outlet Mall North Conway, which allows us to give you a free coupon book when you stay with us; it comes with offers to over 30 of the stores, where you can already save 30-60% off regular prices every day. Call 888-667-9636 or visit http://www.settlersgreen.com/.
Of course, no trip to the White Mountains is complete without great food. Here at Christmas Farm Inn, we offer nightly specials like 2-for-1 night on Mondays and Prime Rib while it lasts on Saturdays. Learn more at https://christmasfarminn.com/jackson-nh-restaurants/ We're also one of the locally owned and operated restaurants that have joined together under the umbrella of the Valley Originals, which periodically offers gift certificates discounted by as much as 30%.
Some special rates are based on when tourist traffic slows or grows, so planning your family getaway for the "low" time of year can lead to savings on Lodging or services. For example, the price of Christmas Farm Inn's bestselling Romance Package can vary by as much as $140 based on when the trip occurs. Pricing to reflect increased demand during busier periods is a fundamental aspect of any business.
Most time-based deals are, of course, subject to availability at the time of booking, which is why you want to make reservations as far enough ahead as possible to reap the maximum benefit. Travel insurance can be a smart investment to cover unexpected cancellations, emergencies or changes to travel plans.
During certain periods, Christmas Farm Inn offers special deals when booking midweek (rather than the busy weekends). If your timing is right, you may be able to get your third night half-price or your fourth night's stay free. We usually advertise when these deals will happen for several weeks in advance.
Finally, there are value deals available from other local sources. At the Visitor Center at I-93 Exit 32 in North Woodstock H, you can get 2 admissions to 17 White Mountain attractions (valued at $1,200) for just $379. These cannot be combined with other offers. Call (800) 346-3687 to learn more. Money saving coupons and offers are also available from http://www.hospitalitymaps.com/ or by calling (603) 356-7011.
So, there you have it: Ways to enjoy a trip to beautiful New Hampshire and save money at the same time! Bookmark our specials page for the latest offers. https://christmasfarminn.com/new-hampshire-vacation-packages/. You can also sign up for our newsletter for exclusive deals you won't find anywhere else!
Call (603) 383-4313 to make your reservation today or visit https://christmasfarminn.com/jackson-nh-hotel-reservations/ right now.
Copyright: surasaki / 123RF Stock Photo