Create cabin memories you'll cherish for a lifetime! Make Your Reservation
Pet Friendly Hotel in NH
Cookie's Stamp of Approval at CHRISTMAS FARM INN
"Cookie is more than a pet, more than a mascot. She's a member of our family…"
Dear Friends,
It is with great sadness that we inform you of the passing of Cookie, a much-loved member of our family and inn. Cookie suffered from an incurable kidney disease common to Golden Retrievers and other purebreds. Cookie loved to meet-and-greet guests on the property with a wagging tail and insatiable desire to be loved and petted. She had a fan club of admirers who brought a steady stream of gifts and treats for her. Though she gladly accepted these, it was the love and attention that she received that got her tail wagging when we said, 'let's go to the inn…!". She was always kind and gentle to children, adults and other dogs. She was a friend to all of the team at the Christmas Farm Inn & Spa. All the love that Cookie received was shared right back. She will be greatly missed.
In memory of Cookie,
The Plourde family
---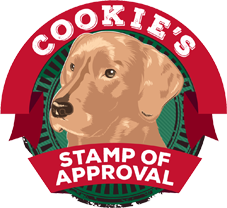 We leave Cookie's "Stamp of Approval" throughout the site as our way of pointing out the attractions we think you'll most enjoy during your visit to the White Mountains. You'll also find her seal of approval on our pet-friendly accommodations.
We ask that you please register your pets before arriving so we can arrange for a pet friendly space. We require a daily fee of $35 per pet per night. We have portable kennels available for $10 per day in the event that you do not bring your own. Visiting pets must be controlled and on a leash when walking around the estate and Jackson Village. Waste receptacles are provided for disposal of droppings and waste. You can read all of our pet policies on the general policies page.
History of Christmas Farm Inn Name
The Inn is not 'Christmas themed' but rather received its name from the gifting of the property at Christmas time – renamed the 'Christmas Farm' in honor of the season and spirit of the gift.
LEARN MORE OF THE HISTORY