Pet Friendly Hotel
Relax with Cookie at CHRISTMAS FARM INN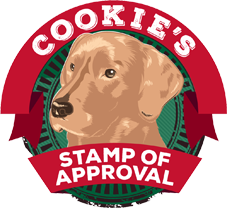 Meet our resident greeter, Cookie
Cookie is more than a pet, more than a mascot. She's a member of our family, and we hope you come to think of her as part of yours as well. Many of our guests have a fond attachment to Cookie, who is all too willing to let them give her a nice belly rub. She helps to create a warm, relaxing atmosphere around the Inn. Children have written Cookie to send drawings of her after enjoying her soothing presence during a stay. Couples getting married at the Christmas Farm Inn have made a point to include her in their wedding photos.
Throughout this website, we recommend activities and other features that may be of interest to visitors. Cookie's "Seal of Approval" is our way of pointing out the attractions we think you'll most enjoy during your visit to the White Mountains. You'll also find her seal of approval on our pet-friendly accommodations.
We ask that you please register your pets before arriving so we can arrange for a pet friendly space. We require a daily fee of $35 per pet per night. We have portable kennels available for $10 per day in the event that you do not bring your own. Visiting pets must be controlled and on a leash when walking around the estate and Jackson Village. Waste recepticles are provided for disposal of droppings and waste. You can read all of our pet policies on the general policies page.
Thanks again for choosing to stay at the Christmas Farm Inn & Spa. Cookie looks forward to seeing you soon!