Create cabin memories you'll cherish for a lifetime! Make Your Reservation
Jackson NH Hotel Innkeepers
GARY & SANDRA PLOURDE
When we grabbed the reins of the Christmas Farm Inn & Spa in 2010, it was everything we hoped it would be and more. We've had a tremendous welcome from our hotel guests, and have been warmly embraced by the local community. It is safe to say that we've had our share of challenges, but we approach them with a can-do attitude and genuinely do whatever we can to ensure our guests are happy and enjoy their stays. We've been blessed with their support, good wishes and meaningful feedback. We thank you all! If we haven't yet met, we look forward to introducing ourselves in person! In the meantime, we are the Plourde family: Gary, Sandra, Sofia, and Quintin.
How We Got Here
Gary was born and brought up in Maine, served in the U.S. Army, studied at the University of Maine, University of Salzburg, Austria and the London School of Economics. After graduating, he embarked on an international career in the hotel industry, living in London for many years, then Croatia and South Africa, working for major hotel chains like Forte Hotels, Le Meridien, Marriott and Starwood.
Sandra was born and raised in Kiel, in northern Germany. She studied hotel management, and began her career at the St. James Court, a five star hotel in London. She later worked for a leading European Tour Operator, airline representation firm and destination marketing company.
We met in London, where we both lived for many years and knew each other for 7 years before getting engaged. Our daughter, Sofia, was born in London, and soon after she arrived, we moved to Zagreb, Croatia where our son, Quintin, was born. Three years later, we packed up again and moved to Cape Town, South Africa. Gary worked for Starwood Hotels & Resorts representing the Westin, Sheraton and Luxury Collection brand of Starwood in SA. Sandra concentrated on giving the children a head start…and lots of ice cream!
As a team, we have many years of experiences working in the travel and tourism industry, namely sales, marketing and operations of hotels, as well as tour operating and destination marketing. Eventually, we decided to use our collective experience in our own business venture. For a number of years, we looked for an inn to call our own, and a place to settle down with the children. What we wanted was idealistic. It had to be special, and we found it– or rather it found us– the Christmas Farm Inn.
During our search, we were contacted by Earl Wason, a broker representing George and Mike Tolley, owners of the Christmas Farm Inn & Spa. "Is this for real? – it's too perfect to be true," Sandra said. "We could never afford it," said Gary. But, we were idealistic, and so were the Tolleys. They wanted to find a family to take over the Jackson, NH Hotel and bring back the warmth and charm to the Christmas Farm Inn & Spa. Over time, agreements were made, papers signed, and we made our move to the White Mountains of New Hampshire.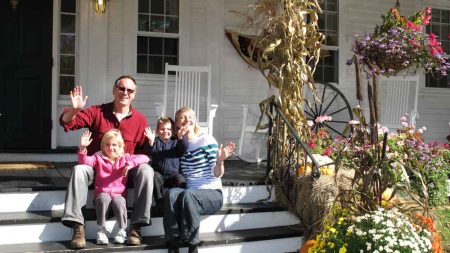 So, here we are. We arrived in the middle of 'high-season,' luckily with a house full of guests. We introduced ourselves to the community and to many quests. We learned more about the area, enrolled our kids in the little grammar school down the road, and jumped full-force into the business of keeping an inn. Yes, this includes things like unclogging toilets late at night– it's not all glamorous. But for us, the magic lies in sharing memorable moments at the inn, poolside and around the fire with a variety of newlyweds, groups of friends, and wonderful families who visit the property.
An estate like the Christmas Farm Inn & Spa requires a lot of TLC, and when we arrived there was much work to do. We set forth to make a dent in the long list of projects, among them new roofs and carpets, improved heating and air conditioning, some furniture updates, painting, grounds keeping, and much more. We are fortunate to have a great team, so we're making good progress with the work, all while ensuring our guests are well cared for. We have had many good comments posted on sites like Trip Advisor and, again, we want to thank all of you who have shared your feedback.
Ideally, we would like to share with you all our plans for the Christmas Farm Inn & Spa. These have taken us many months of long hours and research to formulate. But, we'll spare you! However, you may like to know our vision for the Christmas Farm Inn & Spa. In the future, we will update you on the current initiatives, programs and packages we will offer, and on any improvements we have made.
Position Statement
The Christmas Farm Inn & Spa is a deluxe lifestyle leisure and event resort dedicated to providing a quintessential New England experience. We offer first-class accommodations, authentic country cuisine, and exceptional service. In the Spirit of Christmas, we celebrate the simple pleasures of life every day– friends, family, fun, love, adventure and wellbeing.
Our Vision
We seek to make Christmas Farm Inn & Spa a place where people want to be!
We are dedicated to providing enriching, authentic experiences, traditional comfort, relaxed and elegant surroundings, healthy country cuisine, and genuinely warm and friendly service.
We are proud to be a center for adventure, exploration, personal discovery, inspiration and wellness in a natural and spectacularly beautiful setting.
We are engaged in our community, support our local economy and enterprise, celebrate our local arts and culture, and share the charms and treasures of our destination.
We are guardians and caretakers of our environment, and encourage others to enjoy the wonders of our destination in a fun and responsible way.
Thanks for taking an interest in our lives and plans for the Christmas Farm Inn & Spa. We look forward to welcoming you in the future, and sharing in the memories that you will create here.
Gary, Sandra, Sofia, and Quintin Plourde
History of Christmas Farm Inn Name
The Inn is not 'Christmas themed' but rather received its name from the gifting of the property at Christmas time – renamed the 'Christmas Farm' in honor of the season and spirit of the gift.
LEARN MORE OF THE HISTORY